Philippines Golan peacekeepers to stay for now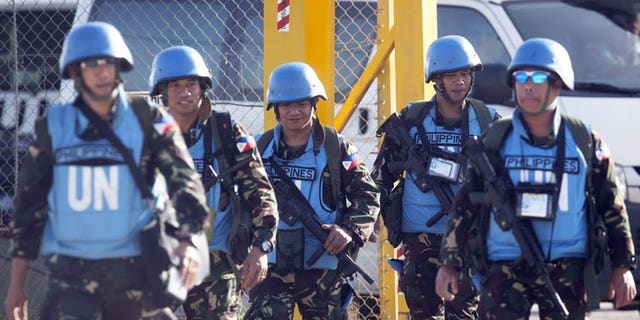 MANILA (AFP) – The Philippines Wednesday said it would keep its peacekeepers in the Golan Heights until at least August, and may stay longer if the United Nations increased security there.
The announcement by Foreign Secretary Albert del Rosario followed repeated government warnings in recent weeks that it was considering swiftly pulling out its 341 soldiers from the volatile area between Syria and Israel.
"We're committed to staying at least until August 3," del Rosario told a news conference in Manila.
Syrian rebels kidnapped 25 Filipino peacekeepers in two separate incidents in the Golan Heights this year.
They were released unharmed but the abductions, as well as the wounding of a Filipino soldier at an outpost of the UN Disengagement Observer Force (UNDOF), heightened concerns about the contingent's safety.
UN peacekeepers have been monitoring a ceasefire between Syria and Israel in the Golan since 1974, but violence has escalated as the Syrian civil war spills over into the area.
Austria began pulling out its 370 peacekeepers last week because of the security concerns, leaving the Golan force with just the 341 troops from the Philippines and 193 from India.
However, diplomats said on Tuesday that Fiji had offered 500 troops.
Del Rosario said the UN and the United States had been trying to dissuade the Philippines from pulling out.
He said the Philippines could give no assurance unless recommendations it had given to the UN to enhance the peacekeepers' safety were put in place.
Philippine President Benigno Aquino said last week the force needed more equipment and revised "standard operating procedures" to improve the troops' security.
British ambassador Mark Lyall Grant, the UN Security Council president for June, said on Tuesday that UNDOF would get "some heavier weapons", extra body armour and see observation posts reinforced.
Del Rosario did not comment directly when asked if the new measures announced by Lyall Grant met the Philippines' requirements.
He said a Philippine assessment team was in the Golan Heights to help Aquino decide on the security situation and what action to take after August 3.
"If there is no appreciable increase in the risk exposure by that time, then we may even consider adding to our contingent," del Rosario said, while emphasising the Philippines was conscious of the need to have an adequately staffed force.
"We want a normal number there for the protection of everyone."