Philippine storm moves north, leaves 5 dead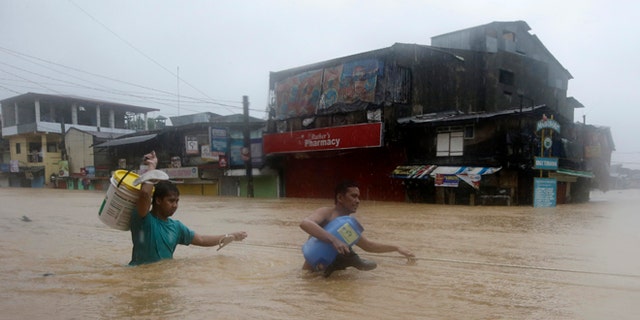 MANILA, Philippines – A storm that brought torrential monsoon rains which flooded much of the Philippine capital gained strength and battered the country's northernmost provinces Saturday with heavy downpours and strong winds.
The National Disaster Risk Reduction and Management Council reported that more than 700,000 people were affected by Tropical Storm Fung-Wong in metropolitan Manila and in northern and central Philippine provinces, forcing more than 205,000 to evacuate. At least five people died.
Gov. Imee Marcos of Ilocos Norte on the northwest section of the main island of Luzon said fierce winds and heavy rains battered her province for more than 12 hours, blowing away roofs, toppling trees and flooding highways.
"I am basically holed up in my bedroom with a generator and several computers and telephones because I can't even cross the street," she told The Associated Press Saturday by telephone from the provincial capital of Laoag, about 400 kilometers (290 miles) north of Manila.
"Basically I told everyone to hunker down. There is very little we can do," she said.
She said floodwaters and fallen trees have cut off some highways to her province. Rescuers were headed to those trapped by the flooding, and relief supplies were being distributed, she said, adding there were no immediate reports of casualties.
"Every time there is a little rain we have trouble, and now this is more than a little rain so it's really been difficult," Marcos said, adding that the last time the province experienced something similar was 10 years ago.
At least 86,000 people in the capital alone were displaced Friday in one of the worst floods in the sprawling metropolis of 12 million in recent years.
Dirty water flowed into the ground floors of many homes, sending residents scrambling to upper floors and onto roofs.
The rain and an unrelated radar malfunction combined to divert, delay or cancel dozens of domestic and international flights at Manila's airport.
Government offices in the capital and 15 provinces were closed Friday and the Philippine Stock Exchange suspended trading.
Government forecasters said nearly a month's worth of rain fell overnight.
Meteorologist Aldczar Aurelio said the storm, which made landfall in northern Cagayan province east of Ilocos Norte with top winds of 100 kilometers (62.5 miles) per hour, enhanced the seasonal southwest monsoon winds and clouds from the Indian Ocean and Australia and dumped heavy rain over the capital area.
He said 268 millimeters (10.5 inches) of rain fell on the capital in a 24-hour period ending early Friday. That was more than half the amount of rainfall that caused massive flooding in Metro Manila in 2009, the worst in 40 years.
Forecasters said the storm was over the Luzon Strait on Saturday, packing sustained winds of 105 kph (65.6 mph) and gusts of up to 135 kph (84 mph).
It was expected to leave Philippine territory by Sunday and head toward Taiwan and southern Japan.
Last week, Typhoon Kalmaegi hit the same northern Philippine region, leaving eight people dead and displacing more than 366,000.