Philippine President Rodrigo Duterte slammed for kissing married woman before huge audience
NEWYou can now listen to Fox News articles!
Philippine President Rodrigo Duterte was slammed on Monday for kissing a married woman in front of thousands of cheering Filipino workers, with some calling it "disgusting theatrics" and him a misogynist president.
The controversy began when Duterte, during his visit to South Korea, called a woman on stage Sunday to give her a copy of a book at a town hall-style meeting in Seoul. Duterte managed to convince the woman to allow him to kiss her in front of overseas Filipino workers.
Duterte asked if she can explain to her husband that the antic was just a joke, and she said yes. As the Philippine president leaned in for the kiss, the crowd enthusiastically cheered.
Though the woman, identified as Bea Kim, later said the kiss was "no malice," many people were outraged by the kiss, the BBC reported.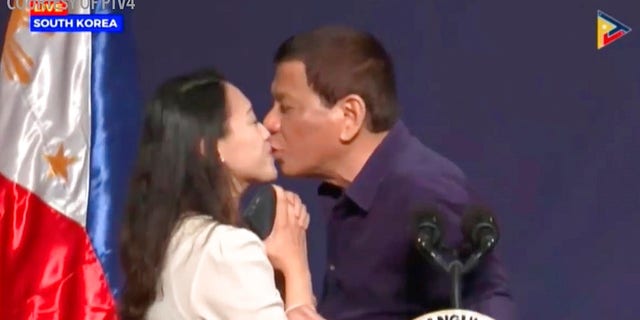 Filipino senator Risa Hontiveros called the kiss "a despicable display of sexism and grave abuse of authority," while women's rights group Gabriela called it "disgusting theatrics."
"His repeated acts of machismo are meant as entertainment to hide the reality of his rapidly slipping popularity due to the issues of extrajudicial killings, the Tax Reform for Acceleration and Inclusion law and big-time corruption scandals now plaguing his rule," Gabriela said in a statement on Monday.
"That kiss Duterte 'asked' from that OFW [overseas Filipino worker]? Typical harassment. He basically used his power/authority to forcibly get consent from the poor girl," one woman tweeted.
"Kissing an ofw in front of a public event in another country is so unethical, the line between ethical and unethical, moral and immoral are blurred to Duterte as long it serves his personal interests," another woman wrote.
STOLEN $1.3M PAINTING FOUND UNDER DRUG DEALER'S BED, RETURNED TO OWNERS 5 YEARS AFTER IT WAS TAKEN: OFFICIALS
Kim insisted to the Philippine New Agency the kiss didn't "mean anything except to entertain and make other Filipinos in the gathering happy."
Duterte has previously been accused of making misogynistic comments. He was caught telling Filipino soldiers earlier this year to shoot female communist rebels in the vagina, the BBC reported.
When Duterte was a mayor in Davao, he was heard saying he was angry that a female Australian missionary was raped and murdered in 1989.
However, he followed the comment by saying: "That's one thing. But she was so beautiful, the mayor should have been first, what a waste."