Philippine massacre witnesses placed under guard after recent killings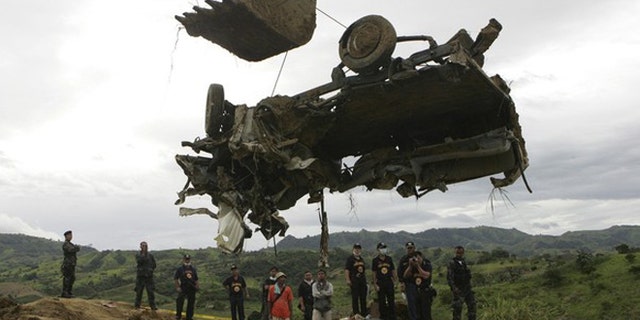 MANILA, Philippines – Several witnesses to a 2009 election-related massacre of 57 people have been placed under government protection following a spate of killings of other witnesses to the country's worst political bloodletting in recent years, officials said Wednesday.
State prosecutor Peter Medalle said six witnesses have been added to the Department of Justice's witness protection program to ensure their safety. Additional protection has been given to at least four other witnesses already in the program, he said.
The governor of southern Maguindanao province, Esmael Mangudadatu, who is also the husband of one of the 57 victims, said at least six witnesses or their relatives have been gunned down since the massacre trial began in September 2010, sowing fear among other witnesses.
One witness, Esmail Amil Enog, is believed to have been killed in March, his body cut into pieces, but authorities learned about his death only recently, according to prosecutor Nena Santos.
Enog, a government militiaman, testified in court last year that he drove dozens of gunmen to the hilly site of the massacre in Maguindanao from the residence of one of the suspects, Santos said, adding he refused to be placed under government protection to avoid being separated from his family.
Mangudadatu said the witnesses placed under government protection include a town vice mayor. He has not testified so far because defense lawyers have been trying to block his testimony, he said.
"They don't want him to talk because he has some damning things to say," Mangudadatu told a news conference.
Members of the politically powerful Ampatuan clan, which controlled dozens of militiamen, have been blamed for the massacre of rival Mangudadatu clan members, their supporters and media workers who were traveling in a convoy when they were stopped by dozens of gunmen.
The Mangudadatus planned to challenge the governorship of Maguindanao which had been controlled by the Ampatuans for years.
Among the dead were at least 31 media workers. It was the single worst killing of journalists in the world.
After stopping the convoy, the gunmen took the victims to a nearby hill and shot them to death with assault rifles. The gunmen tried to hide the massacre by burying the bodies and some of their vehicles in a large grave with a backhoe.
More than 20 witnesses have testified so far against 103 suspects who have pleaded not guilty to murder charges. They include Andal Ampatuan Sr., the clan patriarch who allegedly gave orders to his son to carry out the massacre. Nearly 100 suspects are still at large.
New York-based Human Rights Watch has called on the Philippine government to redouble its efforts to protect the witnesses.