Peru's presidential front-runner and her husband being investigated for money laundering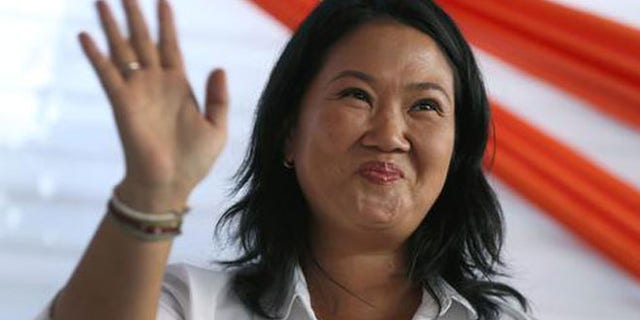 LIMA, Peru (AP) – Peru's tight presidential race took a surprise turn Friday when prosecutors confirmed they've opened a preliminary investigation against front-runner Keiko Fujimori and her American husband for money laundering.
The preliminary probe was opened quietly in March but only became known Friday in a report by Lima-based newspaper El Comercio. It was later confirmed by Peru's chief prosecutor, who said the investigation is ongoing.
Specifically, authorities are looking into a series of suspicious financial transactions and land deals worth nearly $1 million. Among them are campaign contributions allegedly collected at two Fujimori-hosted cocktail parties for donors and wire transfers to her campaign from a Delaware-registered company called LVF Liberty Institute.
The investigation, launched in response to a lawyer's denunciation based on media reports, is bound to stir fears that a Fujimori victory would revive the widespread corruption that marked her father Alberto Fujimori's presidency in the 1990s. The older Fujimori is currently serving out a 25-year jail sentence for corruption and sanctioning death squads.
The probe, initially opened for 60 days, is being led by the same prosecutor looking into money laundering accusations against Fujimori's political enemy, First Lady Nadine Heredia.
Fujimori on Friday accused Heredia of being behind the probe which she said was aimed at boosting her opponent, Pedro Pablo Kuczynski, just two weeks before Peruvians go to the polls in what's shaping up to be a close race. Polls show the two right-wing candidates in a statistical tie with a slight edge for Fujimori.
She called the accusations baseless and said she was confident her name would be cleared because all campaign contributions had been duly reported to electoral authorities.
"I ask Peruvians not to let themselves be deceived," she said in a press conference.
News of the probe comes just two days after a congressman close to Fujimori resigned from his post as secretary general of her Popular Force party over an unrelated money laundering investigation.
Joaquin Ramirez is a key fundraiser for Fujimori's campaign. In a report last week by U.S.-based network Univision, a former associate and alleged Drug Enforcement Administration informant accused him of bragging on a clandestinely-recorded tape about laundering $15 million on behalf of Fujimori's campaign.