Peru's president calls on Latin American leaders to put pressure on Venezuela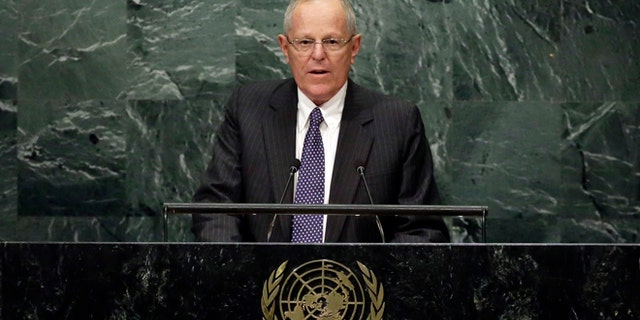 Peruvian President Pedro Pablo Kuczynski used his time on the podium at the United Nations General Assembly to plea with his fellow Latin American leaders to help out with Venezuela's crippling economic crisis and put pressure his Venezuelan counterpart, Nicolás Maduro.
Kuczynski cited the widespread shortages of food, medicine and basic supplies in Venezuela and called on Maduro to respect human rights and a democratic political process.
Besides shortages, Venezuela faces widespread unrest over Maduro's rule and opposition leaders are awaiting a decision by the national election board on the next stage of a possible referendum on his socialist rule.
"It is unavoidable that I mention our concern for the very critical political, economic and social situation that our friendly nation of Venezuela is experiencing," Kuczynski said, according to Reuters. "Full-fledged democracy requires absolute respect of human rights and fundamental freedoms, as well as due process. It also requires the full guarantee of the respect of the separation of powers and checks and balances."
The 77-year-old Peruvian leaders address drew strong criticism from Venezuela's representative to the United Nations, Rafael Ramírez, who called Kuczynski's comments "a gratuitous attack."
"It was an unfortunate speech that shows that certain countries continue to interfere in our internal affairs," Ramírez said.
Kuczynski is seen by many as the political polar opposite of Maduro, who spent time as a bus driver before moving up in the ranks of government under late Venezuelan strongman Hugo Chávez. Kuczynski, on the other hand, spent years working on Wall Street in investment funds and even acquired U.S. citizenship before renouncing it to run for president.
In a year that saw Latin American politics shift sharply to the right, Kuczynski came to power in 2016 along with fellow free-market advocates like Mauricio Macri in Argentina and Brazil's new president Michel Temer. The sea change has soured the socialist government of Venezuela's standing among its Latin American neighbors.
Citing its violation of human rights and its failure to comply with the organization's internal rules, a number of members countries form the Mercosur trade bloc have also questioned Venezuela's right to exercise the rotating presidency of the group.
Venezuela has staunchly defended their right to hold the post.
"The ball is in their court. We will continue defending the legality, working for Mercosur," Venezuelan Foreign Minister Delcy Rodríguez said last week after the four other member states – Brazil, Argentina, Paraguay and Uruguay – agreed that Venezuela may not exercise the bloc's presidency and warned of its possible suspension.