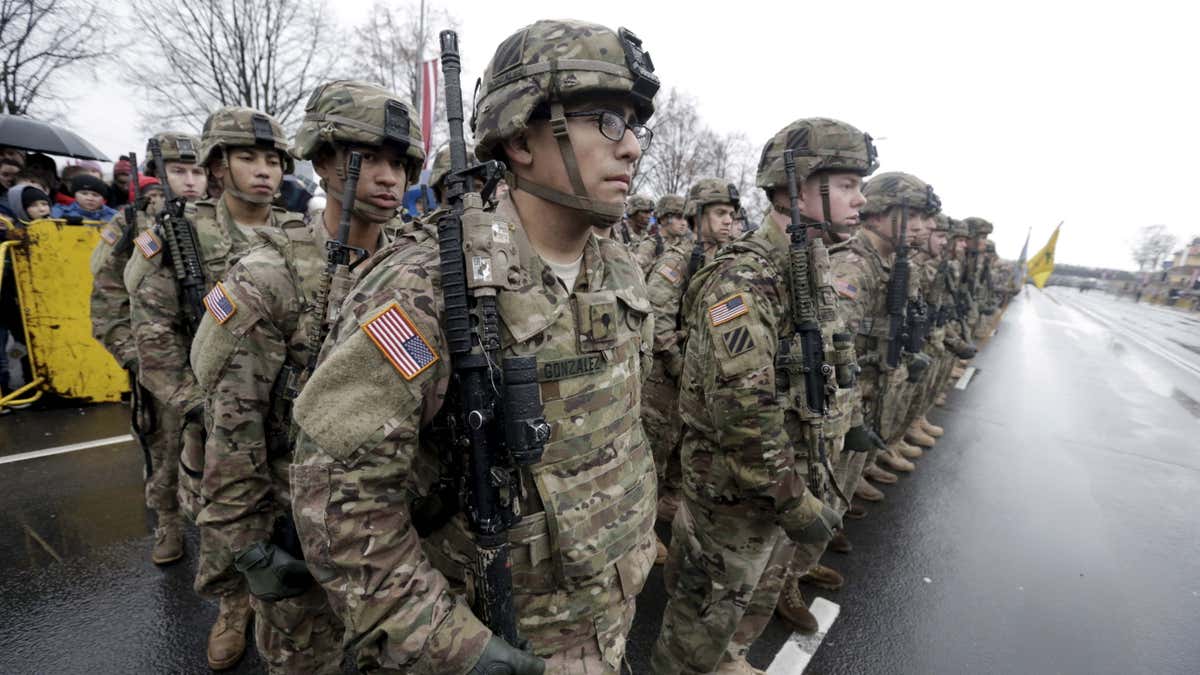 The Pentagon plans to defend Eastern European allies with American troops, tanks and other armored vehicles in hopes of deterring Russian aggression.
Pentagon officials say this step is part of a proposal they announced last year to increase U.S. military deterrence in the region.
Some of the new gear heading to Eastern Europe includes 250 tanks, Bradley Fighting Vehicles, Paladin howitzers and 1,700 more wheeled vehicles and trucks.
We will also be demonstrating and exercising our ability to rapidly deploy equipment and forces to Europe by sending our U.S. based rotating forces with their own equipment. This will be the most modernized equipment the Army has to offer, and will, over the next year, replace the less modern training equipment we put in Europe over the last few years," Pentagon spokeswoman Laura Seal told Fox News.
"This means we will have the most modern and capable equipment in the hands of U.S. armored units who will train continuously in Europe," she added.
Deputy Defense Secretary Robert Work told The Wall Street Journal, "There will be a division's worth of stuff to fight if something happens."
The United States European Command said in a statement Wednesday that the armored brigade combat teams will be on nine month rotations from the U.S.
"This is a big step in enhancing the Army's rotational presence and increasing their combat equipment in Europe," said Gen. Phil Breedlove. "This Army implementation plan continues to demonstrate our strong and balanced approach to reassuring our NATO Allies and Partners in the wake of an aggressive Russia in Eastern Europe and elsewhere."
The Obama administration approved the outline of the plan, which is set to start in February 2017, when it signed off on the $3.4 million European Reassurance Initiative budget last month. Congress hasn't weighed in on the request yet.
Currently, the U.S. rotates around 4,200 troops through six eastern European NATO members: Lithuania, Estonia, Latvia, Poland, Romania and Bulgaria. Gen. Ben Hodges, commander of U.S. Army Europe, told The Wall Street Journal that the plan would create a constant U.S. presence along NATO's border.
"There will be American equipment and people in each of these countries," Hodges said. "We will have the flexibility to converge the entire brigade for exercise and that is an important part of the deterrence, to show a war-fighting capability."
A Russian official told the Journal that Moscow will carefully eye the U.S. plan. Russian officials have claimed that the plan violates the 1997 NATO-Russia Founding act, which states that NATO wouldn't produce permanent military forces near the Russian border.