Pentagon denies Moscow's claim that US may have bombed aid convoy in Syria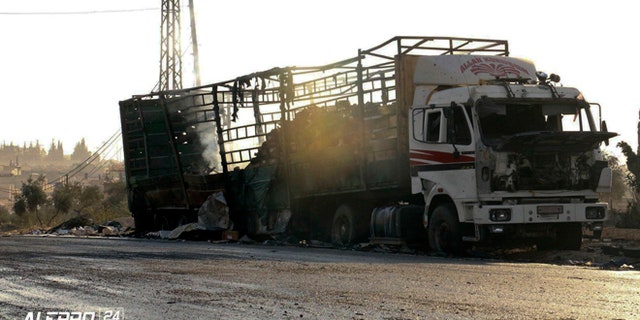 The Russian military said Wednesday that a U.S. drone was flying over the area when an aid convoy was attacked in Syria on Monday, a charge that U.S. officials swiftly denied.
Defense Ministry spokesman Maj. Gen. Igor Konashenkov said a Predator drone, which took off from the Incirlik base in Turkey, flew into the area where the convoy was attacked near the Syrian city of Aleppo minutes before it came under fire. He said the drone left the area about 30 minutes after the attack.
"We can confirm that NONE of our aircraft -- manned or unmanned, US or Coalition -- were anywhere in the vicinity of Aleppo when the strike against the humanitarian convoy occurred," Pentagon spokesman Capt. Jeff A. Davis said.
A U.S. defense official told Fox News the only other "entities that fly in Syria right now are Russia and Syria."
U.S. officials said earlier that two Russian Su-24 aircraft were flying over the area at the moment of the attack. Both Russia and Syria have denied their aircraft struck the convoy.
The attack drew international condemnation and prompted the U.N. to temporarily suspend aid shipments in Syria, where some 6 million people live in besieged or hard-to-reach places. THe U.N. announced Wednesday it would eventually resume those convoys.
In New York on Tuesday, Russian and U.S. diplomats insisted that the cease-fire, which went into effect nine days ago, was not dead, despite soaring violence. The Syrian military said the truce expired Monday night, shortly before the attack near Aleppo.
Fox News' Lucas Tomlinson and The Associated Press contributed to this report.