Pat on the back: Thai police award themselves $84,000 for arresting suspect in Bangkok bombing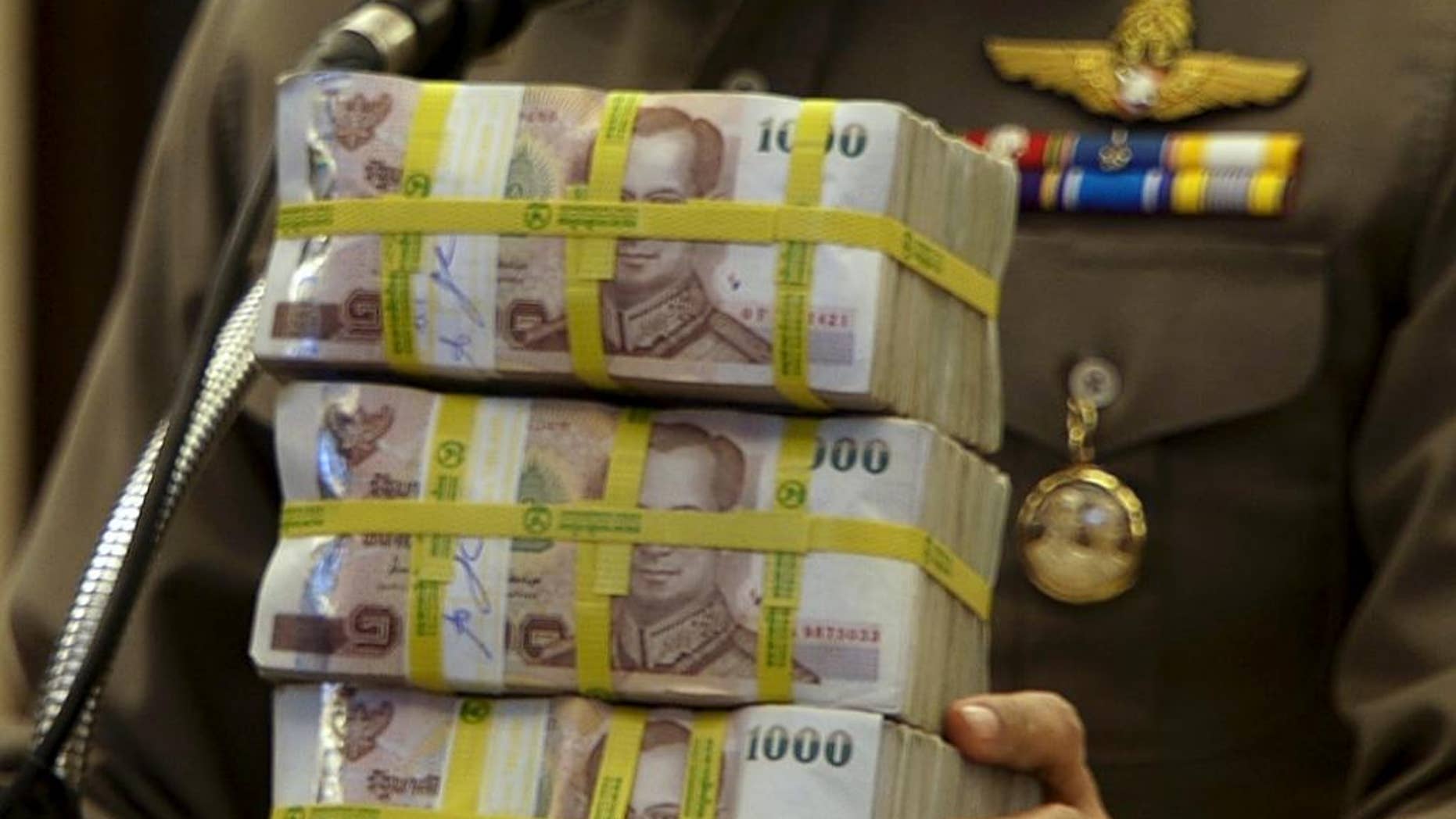 BANGKOK – Thai police congratulated themselves for making an arrest in Bangkok's deadly bombing and announced Monday they would give themselves an $84,000 reward, though the man has not been charged — let alone convicted — and may not be the prime suspect.
The 3 million baht reward was originally offered to the public for tips leading to the arrest of suspects, but national police chief Somyot Poompanmoung said he was taking the unusual step of redirecting the cash to highlight that Thailand's police are good at their job.
The decision quickly added to criticism on social media over police handling of the investigation into the Aug. 17 bombing at Bangkok's Erawan Shrine, which killed 20 people and injured more than 120. Many Thais have expressed doubt that the bombing will be solved, citing a reputation Thai police have for corruption and forcing confessions.
Somyot made the announcement at a news conference Monday, saying he had "good news."
"Give me the bag," he said, turning to an aide who rushed over with stacks of cash that Somyot placed on the podium before him.
"This is real money," the police chief said with a smile. He went on to say that Saturday's arrest was thanks to "good police work" and had not come from any outside tips.
"It is the ability of Thai officials that led to the arrest," he said. "This money should be given to officials who did their job."
Within days of the blast, Somyot said he was offering a 1 million baht ($28,000) reward to help find the perpetrators. The sum quickly tripled after he said two of his friends who wished to remain nameless had chipped in 2 million baht ($56,000) more.
Police made a potential breakthrough Saturday when they arrested a man in the outskirts of Bangkok and found bomb-making material including detonators, ball bearings and a metal pipe at his apartment.
But many questions remain. Police say they are certain the man was part of a network that planned the attack but they have not revealed his name, nationality, motive or his suspected relationship to the bombing network.
Police have responded equivocally when asked whether the man is the main bombing suspect, who was seen on security video leaving a backpack at the shrine shortly before the explosion. "He is a man in the network," Somyot said.
Somyot said the man is in military custody for initial interrogation and will later be turned over to police to be charged. The military has controlled Thailand since a May 2014 coup.
Police said they found more bomb-making materials Sunday in a raid on another apartment in a nearby neighborhood, and on Monday released images of two more suspects: a photo of a Thai woman identified as 26-year-old Wanna Suansun and a sketch of a foreign man of unknown nationality.
Somyot said he also hoped that turning the reward over to police would help motivate them and show "that higher ranking officers actually give them money." Police in Thailand are notoriously underpaid and it is common knowledge that low-ranking officers collect bribes to pay-up to senior officers.
It was not immediately clear how the reward money would be distributed to police officers.
___
AP writer Nattasuda Anusondisai contributed to this report.