Paris terror attack halts presidential campaign, but looms large as vote nears
An apparent terror attack at one of Paris' most storied landmarks has forced an early end to campaigning in Sunday's presidential election, but the murder of a cop on the Champs-Elysees could have a huge effect on the race even as candidates are silenced.
The police officer, identified Friday as Xavier Jugele, was shot in the head Thursday by a reported Islamic radical known to police in what appeared to be the latest terror attack in the City of Lights. With Sunday's first-round voting pitting hard-liner Marine Le Pen against a crowded field of 11 that includes a Republican, a centrist and a socialist, the event is likely to bolster National Front nominee Le Pen, analysts have said.
PARIS TERRORIST ATTACK THREATENS CITY'S REBOUNDING TOURISM, TRAVEL EXPERTS WARN
"I think this election is sufficiently unstable that it could still move things," Bruno Jeanbart, head of political studies at pollster OpinionWay, told Bloomberg News. "Marine Le Pen is notably one to watch."
"Marine Le Pen is notably one to watch."
Le Pen, Republican Francois Fillon, centrist Emmanuel Macron and Socialist Benoit Hamon canceled Friday events and released statements vowing to get tough on terror. But Le Pen's pledge could ring truer than most, as the 48-year-old attorney has made fighting Islamic radicalism one of the cornerstones of her campaign.
PARIS POLICE SEARCH HOME BELIEVED LINKED TO ISIS-CLAIMED ATTACK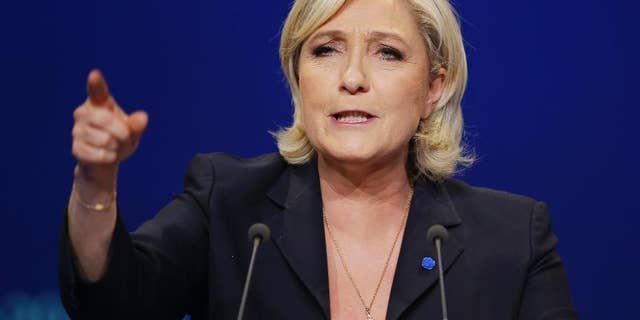 "Because our country is at war, the response must be global, total," Le Pen said Friday in a statement in which she criticized sitting President Francois Hollande as "weak" and "inadequate" on terror.
Le Pen, already the front-runner in Round 1, is expected to make it to a May 7 runoff, in which she would likely face either Melenchon or Fillon.
Thursday's attack unfolded as the candidates appeared on a television news program. Although campaigning was stopped due to the incident, their appearance offered a unique opportunity for voters to see their immediate reactions.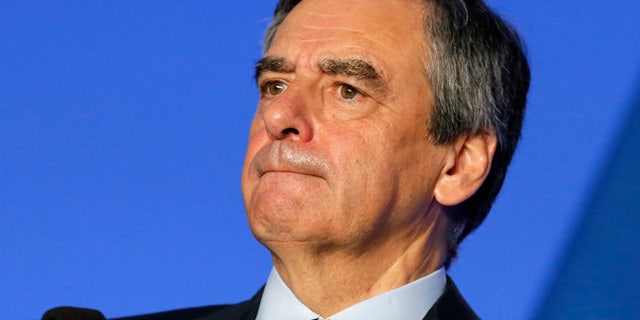 Le Pen repeated calls for a crackdown on radical Islam, which Macron pronounced "nonsense." Fillon called for greater cooperation with Russia and Iran and Melenchon warned that France must not give in to violence.
Although the attack left only one police officer and the killer dead, terror has been on the minds of the French for years. A January 2015 attack on the offices of Charlie Hebdo, the satirical magazine targeted after mocking Islam, left a dozen dead. That was followed later in the year by coordinated attacks that killed 130 in Paris. Several other attacks have unfolded in France since then, including the shocking murder of a priest in his church in Normandy and a truck attack in Nice that killed 84.
Fillon's position is closest to Le Pen's, offering voters the possibility of a tough-on-terror choice without the far-right association Le Pen carries, in part due to the fact her extremist father founded the party.
"We are in a war that will last: The enemy is powerful, its networks are deep, its accomplices live among us," Fillon said. "Some don't seem to have understood the depth of the evil that's attacking us and that I intend to combat with an iron fist."
The Champs-Elysees attacker had a note defending the Islamic State terror group with him when he opened fire on police officers, anti-terrorism prosecutor Francois Molins said during a news conference. He identified the killer as Karim Cheurfi, a 39-year-old with a criminal record, and said the note apparently fell out of Cheurfi's pocket.

ISIS claimed responsibility for the attack and gave a pseudonym for the shooter, Abu Yusuf al-Beljiki, indicating he had ties to Belgium. The attacker opened fire on a police van on the avenue before being killed.
Paris' iconic Champs-Elysees boulevard was reopened and picking up its usual early-morning routine Friday. Delivery trucks were making their rounds. Traffic was going up and down the famous tree-lined street and police barriers have been taken down.
While candidates will be sidelined from the campaign trail, the attack looms large as the vote approaches. President Trump even weighed in, tweeting on Friday that the attack "will have a big effect on presidential election!"
The Associated Press contributed to this report.