Parents of 43 Mexican missing students tell government: Our children aren't animals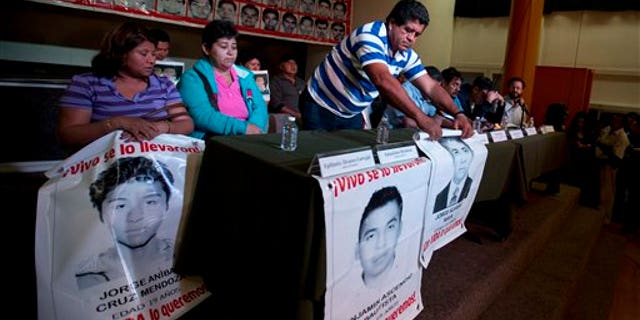 Parents of the 43 missing Mexican students protested a decision from the attorney general's office to declare their children dead and conclude its investigation in a case still causing political problems for the federal government and stirring social unrest.
The parents, speaking to the press Tuesday night in Mexico City, said the investigation was based in statements from suspects allegedly involved in organized crime, while scientific evidence was still lacking to support assertions the students were murdered and had their bodies burned in a landfill.
"We repudiate the way the attorney general today tried to brazenly close the case of what happened in Iguala [scene of the attack] on Sept. 26 and 27," said Felipe de la Cruz, spokesman for the parents.
"We're not going to allow that they conclude or close the investigations. … We're going to continue this struggle until the final consequences and until they show us what happened in a scientific way."
Four months after federal officials first said the 43 students were attacked by crooked cops, acting on the orders of a since-apprehended mayor and his wife and turned over to organized crime, the disappearance still disenchants many Mexicans.
It also poses political problems for a paralyzed and increasingly unpopular president, along with institutions such as the army, and puts elections at risk in places such as Guerrero state – scene of the tragedy and where self-defense groups, sympathizers of the students, have taken over town halls and run off local police forces.
"Suspicion has basically taken over and, of course, credibility is scarce for official pronouncements on this topic," Federico Estévez, political science professor at the Autonomous Technological Institute of Mexico, told Fox News Latino. "Their best ploy is to keep hammering away at the same story line" – that the students were burned in a landfill – "and not changing one piece of it."
Attorney General Jesús Murillo Karam outlined the same scenario as he did in early November and introduced no new evidence – other than statements from an alleged member of the Guerreros Unidos gang, Felipe Rodríguez Salgado, claiming that that two of the students belonged to a rival criminal group known as Los Rojos.
Only one student has been identified through DNA evidence that the Attorney General's office says was collected from the dump in the municipality of Cocula, in Guerrero state, 140 miles south of Mexico City. (The parents insist that all the students – spare one – are still alive.) Authorities sent evidence collected from landfill to a university in Austria, which recently said it might not be usable for identifying other individuals.
"This is the historic truth … based in evidence supported by science," Murillo said Tuesday.
"Many other elements provided during the investigation allowed a logical causal analysis and arrived to the conclusion that the students were deprived of liberty, deprived of life, incinerated and thrown into the San Juan River," he added.
President Enrique Peña Nieto has urged Mexicans to "overcome" the tragedy and told an audience of academics, one day after mass protests moved through Mexico City: "This moment in Mexico's history of grief, tragedy and pain cannot leave us trapped. We cannot remain here."
Parents and political observers have expressed suspicion with the timing and say Peña Nieto appears anxious to close the case, which has caused his approval rating to plummet to historically low levels and ruined his international image as a reformer.
The tragedy has also turned attention to the army – previously shown in polls as the country's most trustworthy institution – which has had to answer uncomfortable questions about its actions (or lack thereof) in Iguala on the night of the attack.
"It appears that … people were starting to discount the government story on the disappearance of the people, and then the bodies, and that all these [stories] about the army being involved were beginning to take over," said Estévez, the political science professor. "That becomes a combustible mix that they didn't like so they're going back to insisting on this [original] story."
Peña Nieto appeared indecisive after news of the missing students broke. He waited 11 days before speaking on the issue and still hasn't gone to Iguala.
Some analysts saw the government sending a signal to protesters – especially those in Guerrero, one of Mexico's most marginalized and impoverished states, where teachers at odds with Peña Nieto's education reform have protests often.
"The government has taken off the gloves," wrote Pascal Beltrán del Río, editor of the Excélsior newspaper. "Now it will have to dedicate itself to disassembling the theater that its indecision made grow."
Parents, meanwhile, promised to keep protesting.
"What the government wants to do now is shelve this case," said Epifanio Álvarez, one of the parents.
"We're not in agreement with this. Our children aren't animals, they're persons with feelings, like any other human being."