Panama stops North Korean ship carrying missile material from Cuba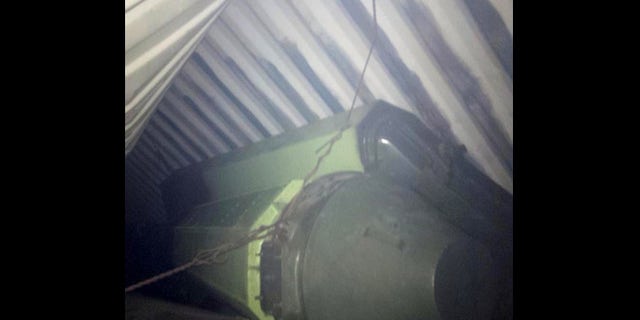 Panama's president says the country has taken control of a North Korean ship that was trying to illegally sneak missile materials from Cuba through the Panama Canal.
Ricardo Martinelli said on Radio Panama on Monday that the ship was stopped on the Atlantic coast of the country, according to the AFP.
"We had suspected this ship, which was coming from Cuba and headed to North Korea, might have drugs aboard so it was brought into port for search and inspection," Martinelli said. "When we started to unload the shipment of sugar we located containers that we believe to be sophisticated missile equipment, and that is not allowed."
After examining images, intelligence officials told Fox News that the equipment is part of a "soviet era" radar system that accompanies the SA-2 surface to air missile.
Martinelli told RPC the 35 North Koreans on the boat resisted police efforts to take the ship to the Caribbean port of Manzanillo. The crew was later taken into custody, and Martinelli said the captain had a heart attack and also tried to commit suicide during the operation.
"The world needs to sit up and take note: you cannot go around shipping undeclared weapons of war through the Panama Canal," Martinelli said, according to the AFP. Panama is holding the ship for further investigation.
Panamanian authorities have only searched one of the ship's five cargo holds so far, Luis Eduardo Camacho, a spokesman for the president, said on Tuesday.
"This material not being declared and Panama being a neutral country, a country in peace, that doesn't like war, we feel very worried about this war material and we don't know what else will have ... passed through the Panama Canal," Martinelli said.
He added that the undeclared military cargo appeared to include non-conventional arms and the ship was violating United Nations resolutions against arms trafficking.
The governments of North Korea and Cuba had not commented on the ship seizure as of Tuesday morning.
Hugh Griffiths, an arms trafficking expert at the Stockholm International Peace Research Institute, said the seized ship is called Chong Chon Gang and has been on the institute's suspect list for some time.
He said the ship had been caught before for trafficking narcotics and small arms ammunition. It was stopped in 2010 in the Ukraine and was attacked by pirates 400 miles off the coast of Somalia in 2009.
Griffiths' institute has also been interested in the ship because of a stop it made in 2009 in Tartus — a Syrian port city hosting a Russian naval base.
Griffiths also said the institute earlier this year reported to the U.N. a discovery it made of a flight from Cuba to North Korea that travelled via central Africa.
"Given the history of North Korea, Cuban military cooperation and now this latest seizure, we find this flight more interesting," he said. "After this incident there should be renewed focus on North Korean-Cuban links."
In early July, a top North Korean general, Kim Kyok Sik, visited Cuba and met with his island counterparts.
Cuban Communist Party newspaper Granma said he was also received by President Raul Castro, and the two had an "exchange about the historical ties that unite the two nations and the common will to continue strengthening them."
The meetings were held behind closed doors, and there has been no detailed account of their discussions.
In a report sent to subscribers Tuesday, Lloyd's List Intelligence said the ship's last known port call was in Vostochnyy, Russia. It departed April 12 with a stated destination of Havana, traveled west of Japan and then across the Pacific to arrive in Balboa, Panama, on May 31.
It crossed through the Panama Canal the following day.
"And then we lose track of it, there's no AIS information," said Daryl Williamson, director of maritime data at Lloyd's List Intelligence in London, referring to the Automatic Identification System of tracking maritime traffic using on-board transponders.
"What's been said by the Panamanian authorities is consistent with the observations, but we haven't been able to verify by `eyes-on' the arrival in Cuba," he added.
There was no confirmation of its arrival in Havana. The ship then popped up again in Cristobal, Panama, on July 12.
The Lloyd's List report said the ship, which is registered to the Pyongyang-based Chongchongang Shipping Company, "has a long history of detentions for safety deficiencies and other undeclared reasons."
The report added that the vessel docked in Chinese ports for several months before going to Russia. It said the ship was built in 1979 and has a deadweight capacity of 14,000 tons.
The Associated Press contributed to this report.