Palestinians say they'll seek UN Security Council vote on ending occupation this week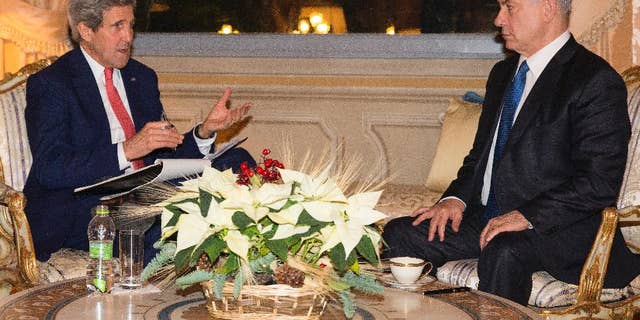 NEWYou can now listen to Fox News articles!
RAMALLAH, West Bank – Palestinian officials say they plan to push for a U.N. Security Council vote this week on a resolution setting a November 2016 deadline for ending Israeli occupation.
The announcement came late Sunday after a meeting of Palestinian President Mahmoud Abbas with officials from his Fatah movement and the Palestine Liberation Organization.
Officials say the Jordanian-backed resolution is to be submitted by Wednesday. Another proposal, by France, would set a time limit of two years for Israeli-Palestinian peace talks.
Israel opposes the resolutions. U.S. Secretary of State John Kerry is meeting with Israeli and Palestinian leaders in Europe to try to find a compromise.
U.S. officials say they are not opposed to a new Security Council resolution but that none of the drafts that have been offered so far are acceptable.