Palestinians restart bid for further UN recognition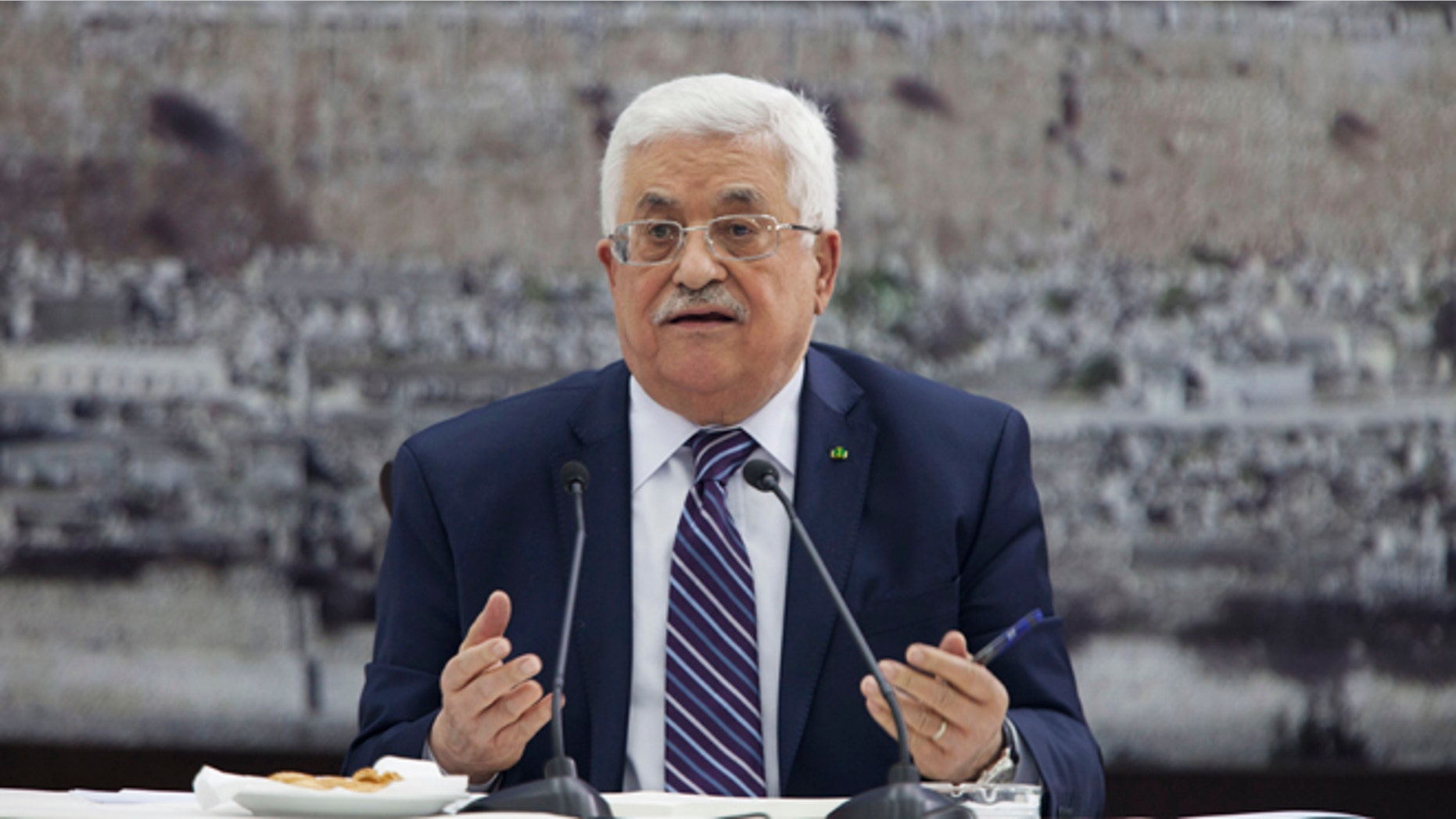 RAMALLAH, West Bank – In a surprise move that could derail U.S. peace efforts, Palestinian President Mahmoud Abbas on Tuesday resumed a campaign for further U.N. recognition of a Palestinian state, despite a previous promise to suspend such efforts during nine months of negotiations with Israel.
Shortly after Abbas' announcement, U.S. Secretary of State John Kerry canceled plans to return to the Middle East on Wednesday, but also said it's "completely premature" to write off the Israeli-Palestinian peace talks he restarted in late July.
"We are continuing, even now ... to be engaged with both parties," Kerry told a news conference in Brussels, where he was attending a meeting of NATO foreign ministers. "We urge both sides to show restraint while we work with them."
There was no immediate Israeli comment. However, Abbas' decision threw into doubt Israeli claims that a deal was emerging that would have extended Israel-Palestinian talks beyond an April 29 deadline and included the release of imprisoned spy Jonathan Pollard.
It remained unclear whether Abbas' dramatic announcement was a negotiating tactic or signaled a fundamental shift in strategy.
In a hastily convened ceremony televised live from his West Bank headquarters, Abbas signed "State of Palestine" applications for 15 U.N. agencies and conventions, and said the Palestinians would launch the applications process immediately.
Abbas said he was compelled to act because Israel had failed to carry out a promised release of Palestinian prisoners by the end of March.
At the same time, Abbas said he is not seeking a confrontation with the United States and remains determined to "reach a peaceful solution through negotiations" with Israel. A senior aide, Nabil Abu Rdeneh, later urged the international community to pressure Israel to release the prisoners, indicating that the Palestinians might reverse course if their demand is met.
Still, Abbas' surprise decision signaled a new crisis in Kerry's troubled peace efforts.
Kerry had nudged Israelis and Palestinians back to the table in July, after a five-year break in negotiations, and got them to commit to nine months of negotiations, until April 29. The target was to reach a framework deal on the terms of a Palestinian state alongside Israel.
As part of that deal, Abbas promised to suspend Palestinian efforts to seek further U.N. recognition for the duration of the talks, including applying for Palestinian membership in U.N. agencies, treaties and conventions.
The U.N. General Assembly recognized a Palestinian state in the West Bank, Gaza and east Jerusalem -- lands Israel occupied in 1967 -- as a non-member observer in a vote in November 2012, overriding Israeli and U.S. objections.
In exchange for Abbas' promise, Israel pledged to release 104 of the longest-held Palestinian prisoners who had been locked up since the early 1990s. The Palestinians say the fourth and final group was to have been released by the end of March. Israel argues that the release was contingent on the Palestinians negotiating "in good faith."
In recent days, Kerry has been trying to negotiate a deal on extending the talks until the end of the year. An Israeli official close to the negotiations said earlier Tuesday that Kerry was pushing a formula that would include Pollard's release.
In exchange for Pollard, Israel would free the last group of 26 Palestinian prisoners, show "restraint" in settlement building and release about 400 additional Palestinian prisoners it would select.
The Israeli offer received a cool reception in Ramallah, according to Palestinian officials who spoke on condition of anonymity because they were not authorized to discuss the issue with reporters.
The officials said the release of the prisoners was not up for new negotiations, and that any discussions about extending negotiations can only begin once those prisoners were freed.
The Palestinians demanded a full settlement freeze and the release of 1,000 additional prisoners, including political leaders, as a condition for extending negotiations.
The officials said Israel's offer to show "restraint" in settlement expansion on occupied lands was largely meaningless.
The Israeli anti-settlement group Peace Now said Tuesday that an Israeli promise not to issue new government tenders for settlement construction for the remainder of the year would not affect construction of thousands of settlement apartments that have already been approved.
The inclusion of Pollard, a former U.S. naval intelligence analyst convicted of spying for Israel nearly three decades ago, had been the most surprising element of recent efforts to rescue the faltering peace talks. It reflected the importance Kerry put on continuing the talks.
Earlier Tuesday, an Israeli government official said that as part of that deal, Pollard was to be released before the Passover holiday, which begins April 14.
For years, U.S. officials have vehemently opposed any talk of releasing Pollard early.
He is serving a life sentence at a federal prison in North Carolina but eligible for parole in November 2015. He was arrested in 1985 and convicted of espionage for giving reams of classified documents to his Israeli handlers.
Pollard's case has become a rallying cry in Israel, where leaders say his lengthy sentence amounts to excessive punishment when compared with other U.S. espionage cases.
Prime Minister Benjamin Netanyahu, who once visited Pollard in prison when he was out of politics, and other Israeli leaders have routinely pressed President Barack Obama and other U.S. presidents for his pardon or release.
Securing Pollard's release would help Netanyahu sell a package that would include more releases of Palestinian prisoners -- something that would otherwise be unpopular with his hard-line Cabinet.
A number of senior officials have already come out against further releases, and Netanyahu's coalition is dominated by lawmakers sympathetic to the West Bank settler movement.
Pollard's wife, Anne, told Associated Press Television News on Tuesday that she still hopes for her husband's release and fears for his health.
"I really, truly have no idea how he has lasted this long," she said. "And I have no idea how much longer he could last."