Palestinian students attack British diplomat before university speech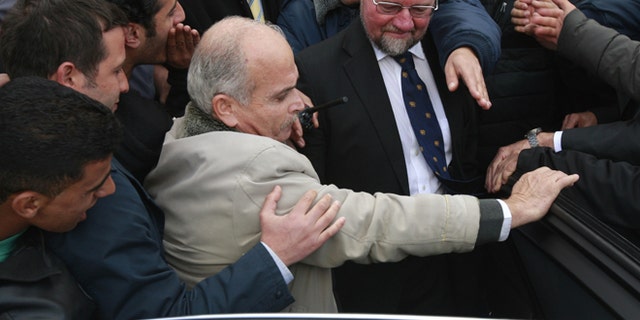 BIRZEIT, West Bank – Dozens of Palestinian students swarmed around a senior British diplomat on Tuesday, leaping on his vehicle and trying to attack him in a show of rage over a British policy and a century-old promise to Jews.
The outburst forced the British consul general, Sir Vincent Fean, to cancel a speech at a Palestinian university.
Fean was not hurt, although an Associated Press photographer saw one student kicking him in the shins.
Student activists said they were protesting decades of British policy toward Palestinians.
They said their chief grievance was Britain's support for a Jewish homeland in what was then British-ruled Palestine in a letter known as the "Balfour Declaration," issued in 1917. The letter also said "nothing shall be done" that would prejudice the civil rights of non-Jews. Israel gained independence in 1948.
Britain is an ally of Israel but has been highly critical of its policies toward the Palestinians, especially settlement construction in the West Bank.
In recent days tensions have risen in the West Bank, with demonstrations, some of them violent, in solidarity with Palestinian prisoners held in Israeli prisons. Some have predicted that the protests could escalate into a full-scale uprising.
"We asked the university to cancel his visit because Britain is the cause of the Palestinian tragedy," said Taha Afghani, student leader of the Palestinian Fatah group, one of several political factions that organized the protest. Fatah is headed by Palestinian President Mahmoud Abbas.
Fean was returning to his vehicle after meeting with Birzeit University officials when the incident erupted.
The administration decided to cancel Fean's lecture after dozens of students, some waving Palestinian flags and signs, gathered outside the office.
Fean emerged, surrounded by security and university staff, and was escorted to his car. Shouting students tried to approach him. Fean was quickly pushed into his waiting vehicle, and some students began kicking the car. Student leader Afghani said they also hurled rocks at the vehicle.
"Get out of Birzeit!" they yelled in English. "Occupation is your shame!" they shouted, in reference to Israel's occupation of Palestinian territories.
In a statement, the British Foreign Office said that Fean had hoped "to engage in an open dialogue" about Britain's policies in the Middle East. "Sadly, such a dialogue was not possible on this occasion." As consul general in Jerusalem, Fean serves as Britain's envoy to the Palestinians.
Abbas' government has good relations with the West, receiving hundreds of millions of dollars a year in financial assistance from the U.S. and European Union. But the Palestinian public is often critical of the West, particularly the U.S., accusing it of bias toward Israel.
Birzeit University condemned Tuesday's incident in a statement.
"We believe it would have been much more useful if the students had a dialogue with the guest and expressed their political views in a peaceful way," it said.
The Palestinian government and Abbas' office had no additional comment, saying they were satisfied with the university's statement.