Palestinian leader wants new plan for peace talks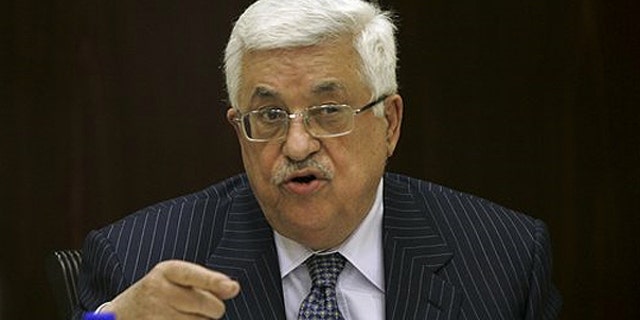 JERUSALEM – The Palestinian president called on the international community Friday to draft a new formula for peace talks with Israel and set aside the current process that he said is "managing the conflict but not solving it."
Peace talks between Israel and the Palestinian Authority broke down in September after an Israeli freeze on settlement construction expired. The Palestinians say they will not negotiate as long as Israel builds homes for Jews in the West Bank and east Jerusalem, lands the Palestinians claim for a future state. U.S. mediators have returned to indirect talks to seek a way out of the impasse.
But with those peace efforts in tatters and no clear way out, Palestinian President Mahmoud Abbas said in remarks broadcast Friday in the West Bank that the international community should step in to devise a new vision for peace between Israel and the Palestinians.
Abbas said the international community needs to "formulate a peace plan that is consistent with the international resolutions instead of continuing in a process that is managing the conflict but not solving it." Abbas was referring to resolutions for a two state solution — a Palestinian state next to Israel. He did he not elaborate on what a new formula might entail.
Israeli Prime Minister Benjamin Netanyahu, in a speech to Israeli ambassadors in Jerusalem late Thursday, said his government is "striving for peace," and accused the Palestinians of "evading" peace talks.
Netanyahu added that a peace agreement must ensure Israel's security. "This requires demilitarization, and security agreements, because Iran entered the other territories we withdrew from in Lebanon and Gaza."
The Islamic militant group Hamas took over Gaza soon after Israel pulled out in 2005, and the Lebanese militia Hezbollah largely took over southern Lebanon when Israel left in 2000. Both groups have fought bitter battles with Israel since, and the Jewish state is concerned militant groups will take root on their border with the West Bank unless a Palestinian state is created in a negotiated agreement.
Abbas made his remarks from Brazil, where he set a cornerstone for a Palestinian Embassy. The ceremony comes as Brazil, along with several other South American countries, recently recognized the yet-nonexistent state of Palestine.
As part of a new emphasis on winning international support for their cause, the Palestinians have drafted a proposal and are lobbying for a Security Council resolution that would declare West Bank settlements illegal and an "obstacle to peace."
The U.S. has said it doesn't support the move, but it remains unclear if it will veto the measure or abstain should the draft come to a vote. Israel says it is an attempt by the Palestinians to avoid negotiations.
Speaking on Thursday to Palestinian expatriates and Arab ambassadors in Brasilia, Brazil, Abbas said the Palestinian draft used language similar to that used by U.S. Secretary of State Hillary Rodham Clinton, who has criticized settlements.
"We drafted it using the same words that Secretary Clinton is using and so we don't see why the U.S. would veto it," Abbas said.
With peace talks at an impasse, the Palestinians are increasingly trying to win international recognition of their state, which they hope will put bring more pressure to bear on Israel.