Palestinian leader Abbas vouches to work for peace but skirts issue of Hamas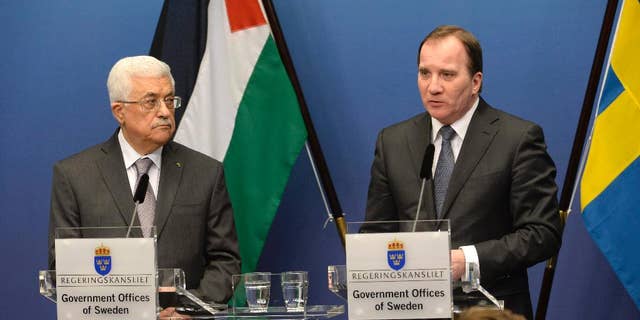 STOCKHOLM – Palestinian President Mahmoud Abbas says he will work to revive peace talks with Israel but skirted questions on how to end the conflict or tackle violence by the Islamic militant group Hamas.
Israeli-Palestinian peacemaking has been on hold since the last round of U.S.-brokered talks collapsed a year ago, partly hampered by the gaps between Abbas and Israeli Prime Minister Benjamin Netanyahu.
Palestinian elections are long overdue, strained by the geographic and political split between Abbas and Hamas. In a jab at Hamas, Abbas said Tuesday that Palestinians must be able to decide "who should lead them and if they accept violence or not."
Abbas was speaking in Stockholm, three months after Sweden became the first European Union member to recognize Palestinian statehood. He thanked Sweden for the gesture.