Palestinian academic freedom questioned after expulsion of Israeli journalist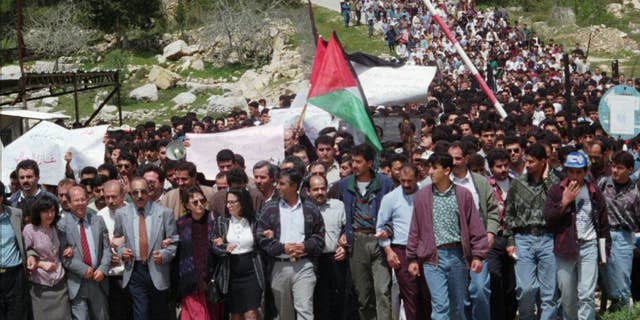 RAMALLAH, West Bank – The expulsion of an Israeli journalist from an academic conference hosted by a top Palestinian university has unleashed a fierce debate about academic freedom in the West Bank.
It is also shining a spotlight on the apparent radicalization of some young Palestinians who are disillusioned by years of failed peace efforts and have grown up with little contact with Israelis.
While Bir Zeit University has apologized to journalist Amira Hass, some student activists say they support her expulsion and want the school to rescind its apology. In Israel, officials say such attitudes violate the spirit of academic freedom.
Hass, who writes for the liberal Israeli daily Haaretz, is a popular figure in Ramallah, one of a few dovish Israeli Jews who live in the Palestinian city. In Israel, she is well known — and reviled by some — for her scathing criticism of Israeli policies toward the Palestinians.
But when she attended a conference at Bir Zeit on Sept. 23, she ran into trouble when she listed Haaretz as her professional affiliation.
She said two professors asked her to leave. "They said, 'There is a law in the university that Israelis cannot enter the university,'" she said. One even told her that she should leave for her own safety. Hass, who said she has been to the university dozens of times previously, decided to leave.
"I was at that moment reminded of the image that Israelis commonly have of Palestinians: irrational hotheads," she wrote in Haaretz.
In an interview, Hass said she has received messages of support from many Palestinians. Hundreds signed a petition saying they were shocked by the expulsion, calling her a courageous defender of Palestinian human rights.
Ghassan Zaqatan, a prominent columnist, called the treatment of Hass "shameful."
Bir Zeit expressed regret and said it will work with students and faculty to help them understand university policies that "oppose discrimination based on identity."
The university "takes pride in observing the academic boycott of Israel," but this applies to institutions, not individuals like Hass who have "distinguished themselves by being on the side of justice and humanity," Bir Zeit said in a statement.
The affair has been hotly debated on campus. On Thursday, the student council demanded the university withdraw its apology. "We say that any Israeli Zionist is not welcome in Bir Zeit University," said Mustafa Mustafa, head of the student council.
He said that Israel should cease to exist, and "if Amira really supports the Palestinian struggle against the occupation, she needs to leave the country."
Baraa al-Qadi, another activist, said that while the general student body is apathetic, most student leaders reject the efforts by the Fatah-led Palestine Liberation Organization to pursue peace with Israel.
Ghassan Khatib, a senior university official, said the school has no official policy banning contact with Israelis, and plans to invite Hass back. He said that while he personally favors interaction with Israelis, the current attitude on campus is that "supporters of the occupation" should not be welcomed.
He said he could not remember the last time an Israeli official had spoken on campus and could not envision leaders of moderate Israeli parties being invited. Students are "willing to listen to views they are not happy with, but when it comes to the occupation, it's another category," he said.
Khatib, a former Palestinian government spokesman, blamed the downfall of Israel's "peace camp" for the hardening of Palestinian attitudes. "For the new generation in Palestine now, it is extremely difficult to notice the existence of any peace camp in Israel, which weakens the argument of the need for dialogue and interaction," he said.
Dovish Israeli political parties advocating broad withdrawals from lands occupied since 1967 have seen their fortunes tumble following a Palestinian uprising in the early 2000s, repeated failures in peace negotiations and three wars against Hamas militants in the Gaza Strip. Palestinians are disillusioned by two decades of failed negotiations, and the continued expansion of Israeli settlements in the West Bank and east Jerusalem, occupied lands they seek for their independent state.
The political impasse is accompanied by growing separation.
Since a second Palestinian uprising began in 2000, Israel has imposed a number of restrictions that prevent most Palestinians from entering Israel and bar Israelis from Palestinian areas in the West Bank.
That contrasts sharply with the situation 20 years ago when thousands of Palestinian workers came to Israel on a daily basis, and many Israelis visited the West Bank for shopping, eating and sightseeing.
In consequence few young people on either side have much contact with the other — unless it is during clashes between the Israeli army and Palestinian demonstrators.
Bir Zeit is considered the best university in the West Bank, and it has long been a center of political activism. Last year, protesters angry over British policies in the Middle East blocked the British consul general from entering the campus and forced him to cancel a speech.
Academic boycotts are nothing new to Israel. University associations in the U.S., Britain and elsewhere have attempted — and sometimes succeeded — to cut off ties with Israeli counterparts.
Israel's committee of university heads said it rejects any academic boycott.
Israel's Hebrew University, for instance, maintains a number of partnerships with the Palestinians, including a collaborative training program that trains dentists from the West Bank and a master's degree in public health that accepts Palestinian students.
Uri Savir, a former Israeli peace negotiator, said he believes the young Palestinians who reject contact with Israel arel a small but vocal minority.
But he warned that the continued failure by both sides to reach a peace agreement would only strengthen these voices. "The longer the time that there is no realistic horizon of the two-state solution, the secular minority of extremists will either go with Hamas or grow within the Fatah," he said.
___
Federman reported from Jerusalem.