Pakistan TV preacher defends Ramadan baby give-away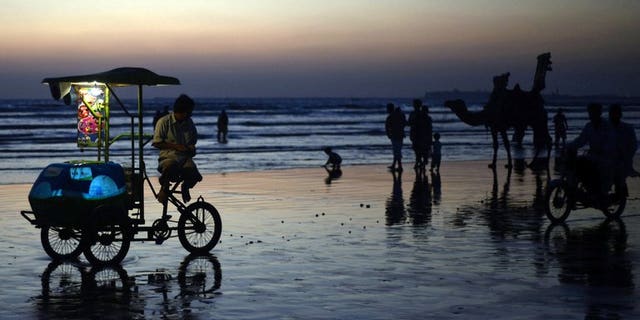 KARACHI (AFP) – A charismatic Muslim preacher criticised for giving out babies to childless couples live on prime-time Pakistani television denies he is crudely seeking top ratings and insists he is spreading charity.
Aamir Liaqat Hussain, one of the biggest stars on Pakistani TV, spoke to AFP as a charity involved in the process said a third baby is due to be given away in the coming days.
Hussain broadcasts a marathon 12-hour show each day during the holy month of Ramadan, watched by millions of viewers across the country.
He mesmerises his audience with celebrity interviews, game shows, by providing in-studio meals to the needy -- and, on two consecutive weeks, handing out baby girls to childless couples.
But international media coverage and public criticism of the baby give-aways has seen him vigorously deny that he is pulling out all the stops to maximise ratings in a competitive Ramadan TV market.
"It is not like parents come in the show, and (we) deliver the baby like a prize. What prize? It is rubbish to say 'who wants to win a baby?'" he told AFP on the sidelines of his chat show.
He insists the two couples were pre-screened for their suitability as parents, and says he is right to find good homes for abandoned babies in a country without official laws of adoption.
"We are trying to create an environment in the society for those people who are needy and want to adopt babies," Hussain said.
"It is not commercialisation, it is not showbiz. It is real Islam. Where are the actors? Where are actress? I have not seen any actors or actress here," he added.
A local charity told AFP it was involved in the screening process that took place before the babies were handed over, saying it took part to discourage women from abandoning unwanted children and men from divorcing wives who cannot give birth.
"We give adoption to those couples only on merit basis," said Ramzan Chhipa, head of the Chhipa Welfare Association.
He said both couples had been screened and went on the show expecting to be given the babies. A third baby is expected to be handed over in coming days, Chhipa told AFP.
"It is not you answer a question on a show and you get a baby. This is false!" he said.
One of the couples say they married more than 15 years ago but have been unable to have their own child.
They registered with Chhipa and told AFP they were interviewed earlier this month by the charity, which then rung up a day before the show, asking them to appear on TV.
"I cannot express in words our happiness. There was a great void in our life and that is filled by having this baby," said the father Said Zulfiqar Hussain, a policeman from Karachi.
"This child is the future of Pakistan," said the mother Soreya Bilqees who dreams her daughter will grow up and join the army.
Hussain, who also courted controversy last year after a young Hindu man converted to Islam live on his chat show, is unrepentant.
"This is the real picture of Islam, to help poor people, to listen to poor people," he told AFP.
"People love me, that is why they watch me. Through television we spread the message of tolerance," he said.