Pakistan tour survives as Zimbabwe stand-off ends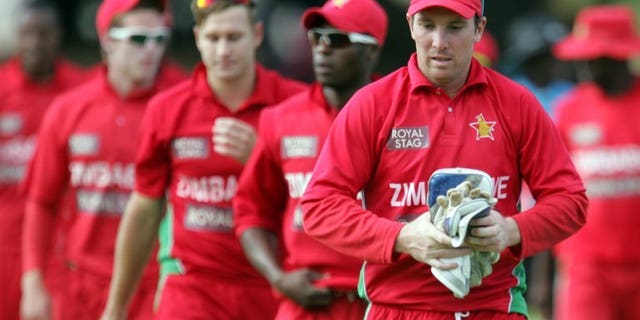 HARARE (AFP) – Zimbabwe's cricketers have returned to training after a brief stand-off with Zimbabwe Cricket over unpaid wages and the value of future contracts, ensuring that Pakistan's tour of the country will go ahead as planned.
Zimbabwe are due to host Pakistan for two Tests, three one-day internationals and two Twenty20s starting on August 23, but their preparations have been hampered by their second player strike this year.
While the players have not been paid their salaries and match fees for July by cash-strapped ZC, their decision to suspend training from Tuesday was also related to negotiations over the value of future contracts.
With central contracts due to expire at the end of August -- midway through Pakistan's visit -- Zimbabwe's players requested improvements in match fees to put them in line with other international sides and threatened to boycott the games against Pakistan unless their conditions were met.
However, a group of senior players, including captain Brendan Taylor, met with ZC managing director Wilfred Mukondiwa on Friday and agreed to resume training pending further discussions.
"All the players have returned to training," Taylor told AFP.
"We had a good meeting this morning with the managing director, who's met us halfway with regards to match fees and the new contracts coming up.
"We just wanted to iron all that out and get some security and clarity on the next 12 months. They've been pretty good on that front. We understand the financial situation is pretty bleak.
"We're just happy to be back and focussing on what's important, which is this Pakistan tour."
A ZC spokesman confirmed that the Cricket Committee had met on Friday to discuss how many players would be placed on both central and winter contracts, as well as the value of those contracts.
An offer will now be put to the players, who are in the final stages of setting up a players' association to represent them in such matters.
Although the players received support from both the Federation of International Cricketers' Associations (FICA) and the South African Cricketers' Association (SACA) in drafting a constitution earlier this year, they were only pressed to put it into action by developments this week.
Zimbabwe's cricketers have attempted to set up a players' association on several occasions over the past 15 years without success, but their most recent initiative is not meeting the same resistance from ZC that they have experienced in the past.
Despite earning a healthy profit from India's recent visit to the country, ZC remains heavily in debt with loans totalling more than $15 million.