Pakistan top court summons Imran Khan for contempt hearing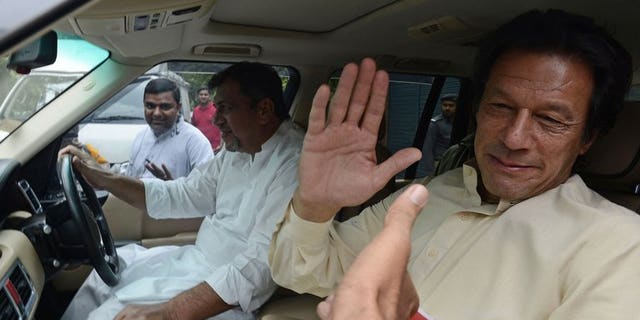 ISLAMABAD (AFP) – Pakistan's top court on Wednesday summoned cricketer-turned-politician Imran Khan for a contempt hearing over his "critical and derogatory" remarks against the judiciary, a statement said.
Khan, the head of the Pakistan Tehreek-e-Insaaf (PTI) party which made a major breakthrough at the May 11 general election, alleged that the polls were rigged and criticised the judiciary and the Election Commission for not taking notice.
"While holding press conference on 26.7.2013, he (Khan) stated that the role of judiciary and Election Commission of Pakistan is shameful in the conduct of general elections; that the elections were rigged, due to role played by these two institutions," the statement said.
"These remarks are fairly critical and very derogatory. Indeed, he has used contemptuous and derogatory language against the Supreme Court and its judges," it said, adding that Khan had indulged in a "deliberate campaign to scandalise" the judiciary.
Chief Justice Iftikhar Muhammad Chaudhry ordered Khan to appear in court on August 2, the statement said.
Khan's PTI finished in third place in the recent election, behind Nawaz Sharif's Pakistan Muslim League-N (PML-N) which formed the government. But PTI formed the provincial government in the restive northwestern province of Khyber Pakhtunkhwa.
If convicted, lawyers say Khan faces up to six months in prison.
Former prime minister Yousuf Raza Gilani was thrown out of office in June after being convicted of contempt.
Gilani was charged with contempt by the court for refusing to write to the Swiss authorities to ask them to re-open corruption cases against President Asif Ali Zardari.