Pakistan Successfully Test-Fires Two Ballistic Missiles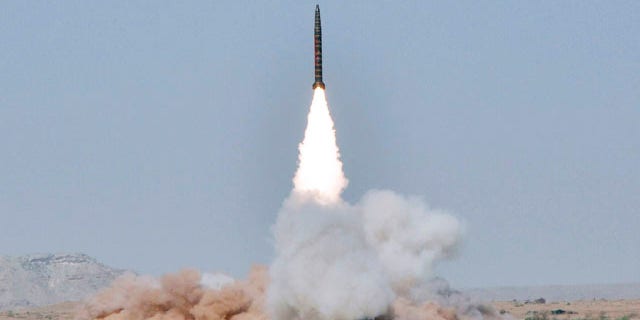 ISLAMABAD -- Pakistan successfully test-fired two ballistic missiles Saturday capable of carrying nuclear warheads, the military said, as the Islamic nation's leader urged the world to recognize it as a legitimate nuclear power.
The Shaheen-1 missile has a range of about 400 miles, while the second Ghaznavi missile could hit targets at a distance of 180 miles, an army statement said. Both can carry conventional and nuclear warheads.
Pakistan's missiles are mostly intended for any confrontation with archrival India, and the range of the Shaheen-1 would include the Indian capital of New Delhi. Saturday's tests -- which featured the rare launch of two missiles -- are unlikely to aggravate tensions between the nuclear-armed neighbors, since they both routinely conduct missile tests.
The latest Pakistani missile test came more than a week after the leaders of two sides met in Bhutan on the sidelines of a regional conference, hoping to improve relations that have been strained since the deadly 2008 Mumbai terror attacks.
Pakistani Prime Minister Yousuf Raza Gilani and other senior army and civil officials witnessed the launches at an undisclosed location, and the missiles "successfully hit the target areas," the statement said.
Gilani also urged world powers "to recognize Pakistan as a dejure nuclear power with equal rights and responsibilities," the army statement said. The prime minister called for cooperation on civilian nuclear power, which would help relieve Pakistan's chronic energy shortages.
Pakistan has refused to sign nonproliferation accords and faces a nuclear trade ban.
"Energy is a vital economic security need of Pakistan and nuclear energy is a clean way forward," the statement said.
Pakistan became a declared nuclear power in 1998 by conducting nuclear tests in response to those carried out by India. Islamabad test-fired its first missile that same year.
The safety of its nuclear arsenals has been a matter of concern since 2004 when the architect of Pakistan's nuclear program, A.Q. Khan, confessed to spreading sensitive technology to Iran, North Korea and Libya. Pakistan has since set up strict controls to prevent any such repeat and the retired Khan is living under virtual house arrest.
But a recent report, commissioned by the Nuclear Threat Initiative and released by Harvard University's Belfer Center for Science and International Affairs, found that Pakistan faces formidable risks in safeguarding its nuclear warheads. Danger persists from "nuclear insiders with extremist sympathies, Al Qaeda or Taliban outsider attacks, and a weak state."