Pakistan school attack mastermind killed by US airstrike, Pentagon says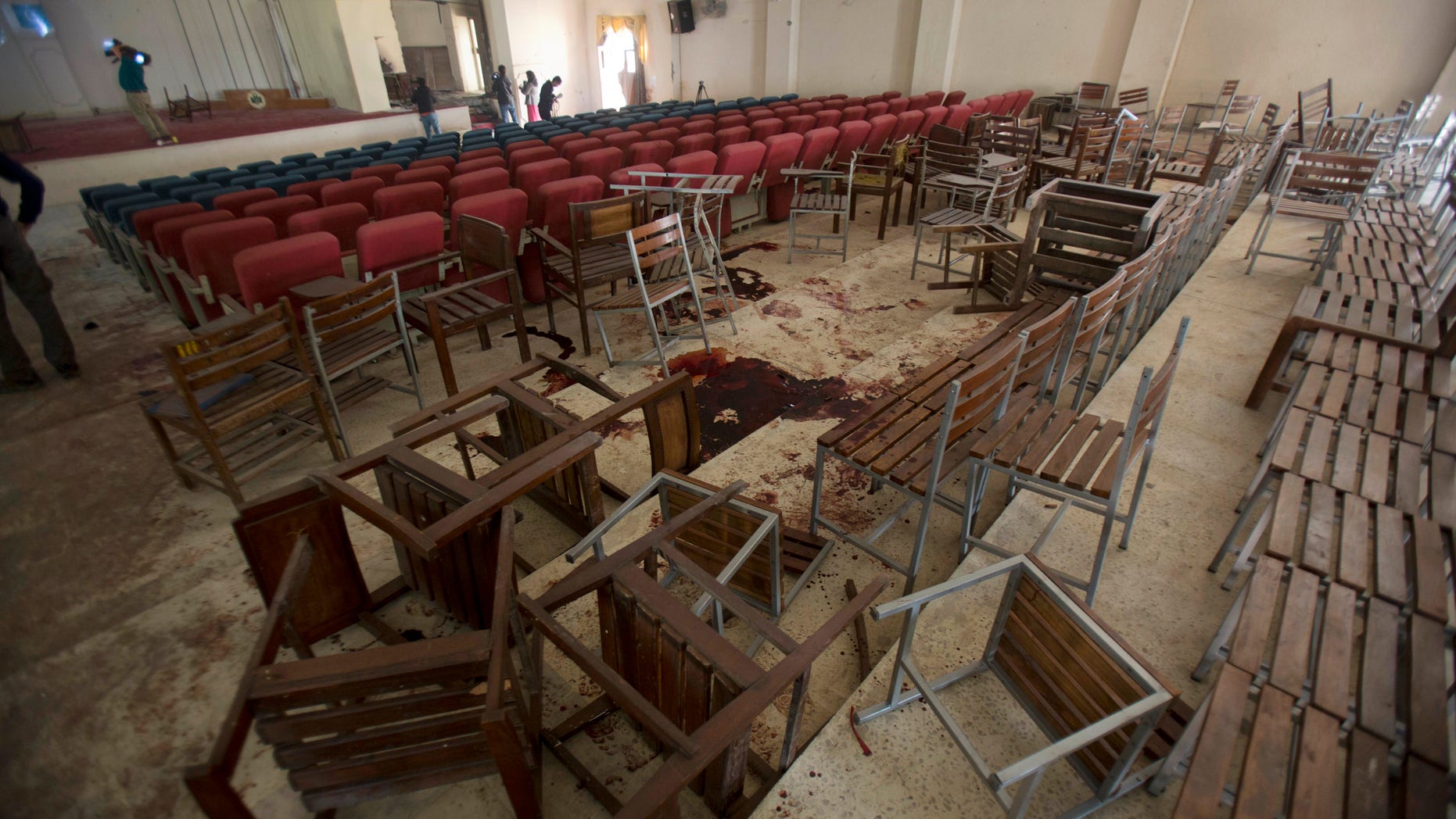 WASHINGTON – A U.S. airstrike near Afghanistan's border with Pakistan killed the mastermind of a 2014 attack on a Pakistani school that killed some 150 people, mainly children, American and Pakistani officials said Wednesday.

Pentagon press secretary Peter Cook said the airstrike Saturday killed "known terrorist leader" Umar Khalifa, who was known by several other names including Khalifa Umar Mansoor. Cook said he was killed along with four other "enemy combatants" in an airstrike targeting members of an Islamic State (ISIS) affiliate known as Khorasan Province.

Cook said the attack was conducted in Nangarhar province, where ISIS has established a foothold. He called Khalifa a leader in the Tariq Gidar Group, which the State Department on May 25 designated as a global terrorist group. It said the group is linked to the Pakistani Taliban and is based in Dara Adam Khiel, Pakistan.

"Khalifa orchestrated multiple terrorist operations in Pakistan to include the January 2016 attack on Bacha Khan University, the September 2015 Badaber Air Force Base attack, and the December 2014 Peshawar school attack that resulted in the deaths of more than 130 children," Cook said in a written statement.

Pakistan Army spokesman Lt. Gen. Asim Bajwa said a U.S. Army general had confirmed the death in a phone call to Pakistan's army chief Gen. Raheel Sharif.

Bajwa said it was a U.S. drone strike. Cook wasn't specific about what kind of aircraft was used.

Pakistan had asked the U.S. for help in eliminating Pakistani militants who have taken refuge in Afghanistan.

Pakistani media reported a drone strike in eastern Afghanistan earlier this week, saying it killed several militants.

Mansoor, also known as Umar Naray and Khalid Khurasani, had claimed responsibility for training and dispatching a Taliban suicide squad to the school in Peshawar in December 2014.

Shortly after the school attack, the main branch of the Pakistani Taliban, which has killed tens of thousands of people in recent years in its campaign to overthrow the government and impose Islamic law, disowned Mansoor and his group.

Mansoor's killing could indicate improved relations between Washington and Islamabad, allies that have had fraught ties over the years. Relations were strained by a U.S. drone strike in May that killed Afghan Taliban leader Mullah Akhtar Mansour as he was driving through Pakistan's Baluchistan province.

Pakistan is at war with the Pakistani Taliban, but is widely seen as turning a blind eye to the Afghan Taliban and other extremist groups, viewing them as a way to enhance its regional influence.

In his statement, Cook said the successful attack underscored what he called common security interests shared with Pakistan and Afghanistan.

"The United States maintains a robust counter-terrorism partnership with Afghanistan and Pakistan and we recognize the sacrifices made on behalf of our respective militaries to pursue terrorists for the sake of regional peace and security," Cook said.

"Only through continued cooperation will we collectively succeed in eliminating terrorist safehavens in the region," he added.