Pakistan says it can bring Haqqani to peace talks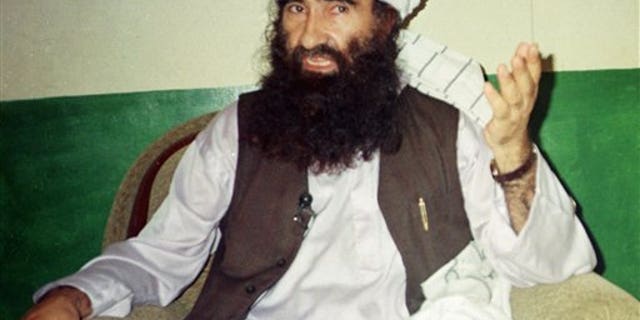 ISLAMABAD, Pakistan – Pakistan's military says it can bring the notorious Haqqani militant network, considered one of the most lethal threats against U.S.-led coalition troops in Afghanistan, to the negotiation table.
Instead, Washington is pushing Pakistan to carry out military assaults against Haqqani hideouts in the tribal regions.
The network is affiliated with the Taliban and al-Qaida and blamed for most of the major attacks in Afghanistan, particularly the often brazen assaults on the capital Kabul. It has been described as the glue that binds together the militant groups operating in Pakistan's tribal North Waziristan.
"The Haqqani network has been more important to the development and sustainment of al-Qaida and the global jihad than any other single actor or group," a study released earlier this month by West Point's Combatting Terrorism Center said.
A senior Pakistani military officer now says that Pakistan can deliver the Haqqani network to the negotiation table. Pakistan has kept open communication lines with Jalaluddin Haqqani, the elderly leader of the al-Qaida aligned network. The officer spoke on the condition of anonymity because he was not authorized to release the information.
The officer denied U.S. and Afghan allegations that Islamabad is aiding and arming the network.
But delivering the Haqqanis would guarantee the Pakistanis a major role in negotiations to end the war and shore up their influence in Afghanistan after the Americans have gone.
Pakistan's offer to bring the recalcitrant Haqqani and his son Sirajuddin, the network's military chief, to the peace table comes amid accelerated efforts to find a negotiated end to the protracted Afghan war ahead of the 2014 U.S. military pullout.
But Washington wants Pakistan to go after the Haqqanis because they are threatening coalition forces in Afghanistan.
During a visit to Afghanistan earlier this month, Joint Chiefs Chairman Adm. Mike Mullen bristled at Pakistan's reluctance to clear out safe havens on its territory.
"There has been frustration with the speed with which that (safe havens) has been addressed ... because in particular, the Haqqani network, which continues to be central to this, not exclusive, but central, in feeding this fight in Afghanistan," he said. "At some point that has got to stop. We continue to engage on that, to bring pressure on that, but I would be hard pressed to be able to tell you time and place when it is going to happen, but it needs to happen."
The senior Pakistani officer said a military assault on Haqqani hideouts would quickly engulf the entire tribal region in a war that the Pakistan army can't win.
For years, the dilemma of how to deal with the Haqqani network has bedeviled Pakistan's relationship with both the United States and Afghanistan.
Pakistan sees the Haqqanis as allies in a postwar Afghanistan. Deep links were found by the West Point study between the Haqqani network and Pakistan's intelligence agency, known as ISI.
Maj. Gen. Daniel Allyn, the coalition's commander for eastern Afghanistan, recently called the Haqqani network "enemy Number One", ahead of the Taliban's one-eyed leader Mullah Mohammed Omar.
On Tuesday, the U.S. designated Mullah Sangeen Zadran, a commander in the Haqqani network, as a terrorist, freezing any assets he has in the United States and barring Americans from doing business with him.
Skeptical of Haqqani's willingness to negotiate, Allyn also complained about safe havens in Pakistan.
"From what I've seen from Haqqani so far, their ruthless tactics and the way they have senselessly murdered by the hundreds Afghan citizens, it's hard for me to imagine that (reconciliation) is very high on their list right now, particularly as long as they have the safe haven they enjoy in Miram Shah," Allyn told the online Long War Journal in an Aug. 9 interview.
Miram Shah, North Waziristan's capital, has been the target of numerous U.S. drone assaults, as have nearby areas suspected of concealing insurgent hideouts.
Haqqani's religious school, or madrassa, has been hit several times and several insurgents have been killed.
Yet people in the area say dozens of militants still roam the area with relative ease, including Arab Al-Qaida fighters and members of the Uzbek-dominated Islamic Movement of Uzbekistan.
U.S. demands for Pakistan to launch military operations against Haqqani havens have escalated as the U.S. and NATO prepare to deploy more troops to the eastern border regions, analysts and Western officials say.
Ahead of his departure last month as head of Afghanistan's military operation, Gen. David Patraeus announced that the thrust of the war would be redirected against Taliban hideouts in the east of Afghanistan, where Haqqani's Afghan headquarters is located.
Yet at least two Western officials in the region say Haqqani's network cannot be defeated militarily. Speaking on condition of anonymity to allow them to speak candidly, the two officials, both of whom have Western military experience, said Pakistan's soldiers are poorly trained and equipped. A military operation in North Waziristan's Miram Shah would temporarily disrupt Haqqani's operation but not defeat it, they said.
They also said the calls for attacks on Haqqani safe havens in Miram Shah are part of the larger U.S. strategy that uses military pressure to bring insurgents to the negotiation table.
Pakistan has 140,000 soldiers deployed in its tribal regions. Battles with Pakistani insurgents there have resulted in the deaths of more than 3,000 Pakistani soldiers, more than the U.S. and NATO combined.
According to the Pakistani military officer, an all out war with the Haqqani network would result in numerous military deaths and leave Pakistan, battered by relentless suicide bombings, vulnerable to more militant attacks.
Insisting Pakistan can bring the Haqqanis to the table without a military operation, the Pakistani senior military official says it's still not clear what the Haqqanis could be offered if they agree to open talks.
Mohammed Ismai Qasemyar, a representative of Afghanistan's High Peace Council tasked with finding a peaceful end to the 10-year war, said: "We won't make any deals with Haqqani." The only promises on offer so far are personal security guarantees and "every rights granted all Afghan citizens."
On their part, Haqqanis would have to denounce al-Qaida, he said.
___
Kathy Gannon is the AP special regional correspondent for Afghanistan and Pakistan. She can be reached at www.twitter.com/kathygannon AP Correspondent Amir Shah in Kabul contributed to this report.