Pakistan militants preparing for Afghanistan civil war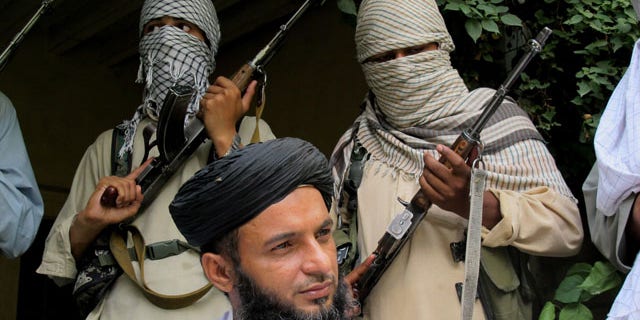 Militants in Pakistan's most populous province are said to be training for what they expect will be an ethnic-based civil war in neighboring Afghanistan after foreign forces withdraw in 16 months, according to analysts and a senior militant.
In the past two years the number of Punjab-based militants deploying to regions bordering on Afghanistan has tripled and is now in the thousands, says analyst Mansur Mehsud. He runs the FATA Institute, an Islamabad-based think tank studying the mix of militant groups that operate in Pakistan's tribal belt running along much of the 1,600-mile Afghan-Pakistan border.
Mehsud, himself from South Waziristan where militants also hide out, says more than 150 militant groups operate in the tribal regions, mostly in mountainous, heavily forested North Waziristan. Dotted with hideouts, it is there that Al Qaeda leader Ayman al-Zawahri is thought by the U.S. to be hiding, and where Afghanistan says many of its enemies have found sanctuary.
While militants from Punjab province have long sought refuge and training in the tribal regions, they were fewer in number and confined their hostility to Pakistan's neighbor and foe, India.
All that is changing, say analysts.
"Before, they were keeping a low profile. But just in the last two or three years hundreds have been coming from Punjab," said Mehsud. "Everyone knows that when NATO and the American troops leave Afghanistan there will be fighting between Pashtuns and non-Pashtuns."
And the Punjabi militants will side with the Afghan Taliban, who are mostly Pashtun, Afghanistan's dominant ethnic group and the majority ethnic group in Pakistan's northwest region that borders Afghanistan. Like many in the Taliban, the Punjabi militants share a radical and regressive interpretation of Islam.
"We will go to Afghanistan to fight alongside the Taliban as we have done in the past," said a senior member of the Lashkar-e-Jhangvi (LeJ), a militant Sunni Muslim group, who goes by a nom de guerre, Ahmed Zia Siddiqui.
In an interview with The Associated Press in Pakistan, he said the Taliban haven't yet requested help, but when asked whether Punjab-based militants were preparing for war in Afghanistan after the foreign withdrawal, he replied: "Absolutely."
Despite being outlawed in Pakistan, Siddiqui's group is among the most active and violent, providing a cadre of suicide bombers for attacks both in Pakistan and in Afghanistan. It has taken responsibility for dozens of attacks that have killed hundreds of minority Shiites in Pakistan.
It has also been implicated in some of the most spectacular attacks in Pakistan, including the 2008 bombing of a five-star hotel in the capital and an assassination attempt on former dictator and U.S. ally Gen. Pervez Musharraf.
Zahid Hussain, whose books plot the rise of militancy in Pakistan, said at least two dozen militant groups are headquartered in Punjab province, while in Waziristan their numbers are growing as mainstream religious parties such as Jamaat-e-Islami recruit young men to the militant cause.
"Even if a settlement occurs in Afghanistan there are still a lot who will continue to fight and those who are most likely to resist a settlement are Pakistani militants," Hussain said. He said that during a recent trip he made to North Waziristan, local tribesmen spoke of the influx of Punjab-based militants into their area. Foreign journalists are not allowed in the tribal regions.
Pakistan's new elected civilian government has promised a strategy to tackle the militants whose actions, says Prime Minister Nawaz Sharif, are a scourge that has killed upward of 40,000 Pakistanis in recent years.
In a televised speech last month, he lamented Pakistan's inability "to restrict the culprits or even identify them, to spot their hideouts and take them to task."
"Pakistan cannot tolerate this anymore," he said.
While Sharif suggested that "incompetence or insensitiveness" were to blame, analysts accuse the government of lacking the political will to go after the militants. They say Sharif's conservative Pakistan Muslim League rules Punjab province, where militant headquarters are easy to spot and are left undisturbed.
In the south Punjab city of Bahawalpur, the al-Qaida linked Jaish-e-Mohammed is expanding its headquarters and building bigger religious schools for its adherents, said Ayesha Saddiqa, a defense analyst from Bahawalpur. The militant group has radicalized locals, and its leader, Azhar Masood, freed from an Indian jail in 1999 in exchange for a hijacked Indian Airlines plane, moves about freely, she said.
Punjab "is infested with numerous jihadi outfits that support the Taliban based in the tribal areas from time to time," said Saddiqa. "The Punjabi jihadis are critical of the war in Afghanistan and Western presence in the region. This is not just an objection to foreign presence in a Muslim country but is part of a larger war they hope to fight in establishing supremacy of Islam according to their interpretation and imagination."
Omar Hamid Khan, the Interior Ministry spokesman, says violence has escalated since the Sharif government took office in June, with 68 attacks in 60 days.
In a recent interview he acknowledged the difficulties the new government faces in meeting its stated goals of creating a counter-terrorism authority and competent police force, and finding experts to translate its national security blueprint into action.
Dr. Simbal Khan, a regional security expert with the Islamabad Policy Research Institute in Islamabad, said Pakistan doesn't want to see Afghanistan return to the 1990s, when civil war destroyed the country and gave rise to the repressive Taliban regime which in turn strengthened Pakistan's militants. Yet Pakistan's options are few, and according to Dr. Khan exclude an all-out assault on militant hideouts in Punjab that would turn the full force of militancy against Pakistan.
"We know where they are. We could bomb the whole area, flatten it. That would solve Afghanistan's problem but what would that leave for us?" she asked. "We might solve the Afghan problem but our problem would be far worse. We would suffer for the next 40 years."