Pakistan court bans upcoming Bollywood film after suspected militant says it threatens him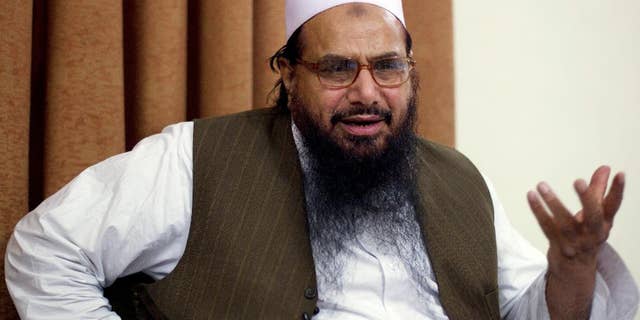 ISLAMABAD – A lawyer for a suspected Pakistani militant wanted by the U.S. said Thursday a court has banned an upcoming Bollywood movie that imagines his client being assassinated.
Hafiz Mohammed Saeed, who has a $10 million bounty on his head over his alleged involvement in the 2008 Mumbai attacks, had petitioned the Lahore High Court to ban the film "Phantom," saying it posed a threat to his life and was Indian propaganda meant to hurt Pakistan's image.
"It is absurd to say that (Saeed) is linked to the attacks in Mumbai," lawyer A.K. Dogar told The Associated Press. "We hope the government of Pakistan will take steps to implement the court order."
According to a court document, the government informed the Lahore High Court that it had received no request from the producer of "Phantom" to show the movie in Pakistan. "Phantom" will be released in India on Aug. 28.
There was no immediate reaction from the film's producer. Director Kabir Khan has been quoted as saying that Saeed is the one who is spreading a hate agenda.
In "Phantom," based on the novel "Mumbai Avengers" by S. Hussain Zaidi, Indian spies target those behind the Mumbai siege, a three-day rampage in India's financial capital that left 166 people dead.
But unlike the novel, which used pseudonyms for those accused of plotting the attack, "Phantom" apparently names Saeed, as well as American David Coleman Headley, who was sentenced to 35 years in a U.S. prison for his role in planning the siege.
Authorities in the United States and India blamed the militant group Lashkar-e-Taiba for carrying out the Mumbai assault.
Saeed, who founded Lashkar-e-Taiba, now runs the charity Jamaat-ud-Dawa, which India says is a front group for Lashkar. Saeed denies having any links with the militancy now.