Pakistan accuses India of another deadly Kashmir clash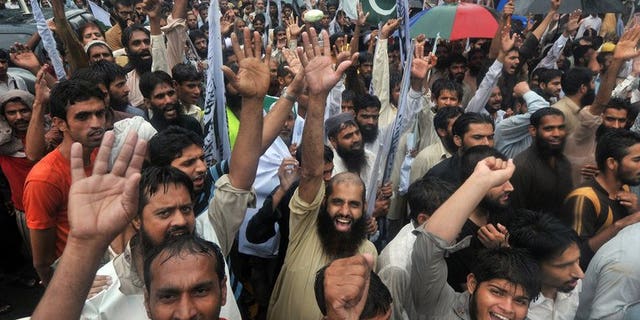 MUZAFFARABAD, Pakistan (AFP) – Pakistan accused Indian troops Thursday of killing a soldier in disputed Kashmir, the latest in a series of clashes which have raised tensions between the nuclear-armed neighbours.
Skirmishes have erupted across the heavily militarised Line of Control (LoC), the de facto border in Kashmir, since five Indian soldiers were killed in a raid two weeks ago.
Delhi blamed that ambush on the Pakistan army, but Islamabad denied the claims and has repeatedly called for restraint and dialogue.
Intermittent clashes since the raid have left another three people dead, jeopardising a planned meeting between the two countries' prime ministers on the sidelines of a UN meeting in New York next month.
"At 1150 hours today (0650 GMT) Indian troops resorted to unprovoked firing at LoC, Rakhchakri sector near Rawlakot. Sepoy Habib embraced shahadat (martyrdom) due to unprovoked Indian firing," the Pakistani military said in a statement.
The Indian military accused Pakistan of firing first.
"We only retailiated effectively to the ceasefire violation, using small arms and heavy-calibre weapons as they did," Colonel R.K. Palta told AFP.
He said firing "from across" the LoC caused no damage or injuries on the Indian side, though local government sources said a woman and a child were injured in Indian Kashmir.
The incident came a day after the Pakistan foreign ministry summoned the Indian deputy ambassador to protest at what it said was the killing of an army officer and the wounding of a soldier in Kashmir.
A woman and a child were wounded in Pakistan-administered Kashmir in another firing incident overnight, a local official told AFP.
Pakistan and India each control part of Kashmir but claim it in full. The scenic Himalayan territory has been the trigger for two of the three wars between them.
Pakistani Prime Minister Nawaz Sharif has been vocal in his desire for better relations with India since his election in May, but the recent flare-ups have thrown this into doubt.
A deadly flare-up along the LoC in January brought a halt to peace talks that had only just resumed following a three-year hiatus sparked by the 2008 attacks in Mumbai that killed 166 people.
India blamed Pakistani militants for the attack.
On Thursday Pakistan's Defence Committee of the Cabinet, which includes ministers and military top brass, "condemned in the strongest terms" the killing of the officer on Wednesday.
A foreign ministry spokesman said Pakistan was committed to "the policy of restraint, responsibility, and dialogue in the larger interest of peace in the region" and urged India to take steps to avoid further violence.