Over 100 Al Qaeda fighters killed in 'major' US air strike in Syria, defense official says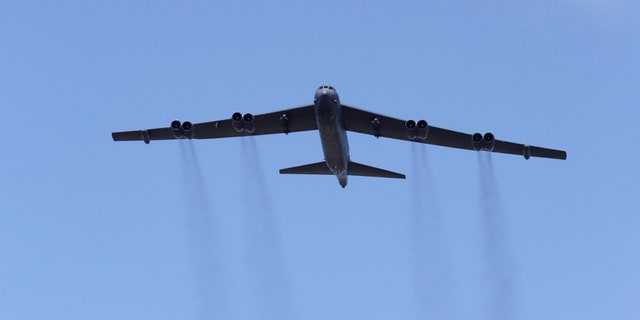 The U.S. Air Force conducted a second "major strike" in consecutive days killing over 100 Al Qaeda fighters at a training camp in northern Syria, a defense official with knowledge of the strike told a handful of reporters at the Pentagon on Friday.
A single U.S. Air Force B-52 bomber and an undisclosed number of drones dropped 14 precision-guided bombs at noon eastern time Thursday on an Al Qaeda "basic training" camp in Syria west of the city of Aleppo near the border with Turkey, according to the official.
The official described the fighters as "core Al Qaeda." A Petagon statement said the camp had been operational since at least 2013. It was not immediately clear why the camp had not been targeted earlier.
The latest strike, likely President Barack Obama's last as commander-in-chief, comes a day after the Pentagon said two Air Force B-2 nuclear-capable bombers dropped 108 precision-guided bombs on two ISIS training camps in Libya killing 85 fighters, according to officials.
The round-the-world strike took roughly 30 hours Wednesday, as both B-2 bombers refueled five times in mid-air flying from their base in Missouri. Fifteen U.S. Air Force tankers from five bases on three continents assisted in the refueling.
B-2 BOMBERS KILL NEARLY 100 ISIS TERRORISTS IN LIBYA
A detachment of B-52 bombers from Barksdale Air Force Base in Louisiana have been deployed since April to the Middle East nation of Qatar to participate in strike missions against ISIS in Iraq and Syria.
The official said Russia had previously tried to take out the Al Qaeda training camp, but had been unsuccessful. The Russian Air Force conducts the majority of their strikes using unguided weapons during the day time. U.S. Air Force and Navy jets fly primarily at night using satellite-guided bombs.
It is not immediately clear if President Obama authorized the strike in Syria. The official said the U.S. military is authorized to conduct counter-terrorism missions against Al Qaeda anytime.
The B-52 is a Cold War-era bomber that is over 50 years old, but still has the ability to loiter over the battlefield for long periods of time and carry over 70,000 pounds of ordnance.
The defense official said no civilians were killed in the American strike in Syria and said there were no signs of Russian aircraft when the American strike took place.
In all, U.S. airstrikes have killed more than 150 Al Qaeda terrorists since Jan. 1.