Organisers insist Zimbabwe ready for vote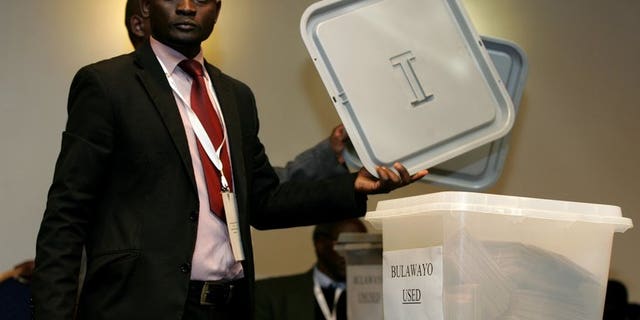 HARARE (AFP) – Zimbabwe election authorities insisted Tuesday that they would be ready to hold general elections in a week's time, despite fears of vote rigging and a lack of funding.
"Elections will be credible, free and fair. We are ready for the elections," the Zimbabwe Electoral Commission's deputy chairwoman Joyce Kazembe told election observers.
The ZEC said 6.4 million voters -- or around half the country's population -- will be eligible to cast their ballot on July 31.
The presidential vote will pit veteran leader President Robert Mugabe against his rival Prime Minister Morgan Tsvangirai.
But early voting for the security services has already been marred by problems. Shortages of ballot papers and voting ink meant thousands were unable to cast their ballots.
Kazembe said of the 63,268 people who were eligible to vote in the early polling, only 37,108 voted.
Many of the delays have been blamed on the ZEC only securing roughly half of the $132 million polling budget they had asked for from the cash-strapped government.
"Out of the budget we wanted, we have received $58 million. But nothing has stopped us from moving," ZEC commissioner Bessie Nhandara said.
Concerns have also arisen about the chaotic state of the voter roll, fuelling fears of fraud and irregularities.
Voter registration only closed two weeks ago, raising questions about whether an accurate voter roll will be ready for election day.
"The registrar-general of voters is currently working flat-out to print the voters roll in time," said Kazembe.
In June the Research and Advocacy Unit, an independent non-governmental group, claimed one million people on the roll were either dead or had left the country.
It also found that 63 constituencies had more registered voters than inhabitants and two million potential voters under 30 were unregistered.
About 600 foreign election observers have been accredited to observe the polls while 6,000 local observers will also be watching the vote.
Foreign observers are drawn mainly from the African Union (AU), the Common Market for Eastern and Southern Africa (COMESA) and the Southern African Development Community (SADC).
Zimbabwe did not invite observer missions from European Union countries or the United States because of sanctions imposed on Mugabe and his top officials for rights abuses.
But all foreign embassies in Zimbabwe including those from the EU countries and the US will be allowed to send five diplomats each to observe the elections.
The 89-year-old Mugabe, who is vying to prolong his 33-year-rule, will be running for the seventh time.