One US dollar = Z$35 Quadrillion as Zimbabwe phases out old currency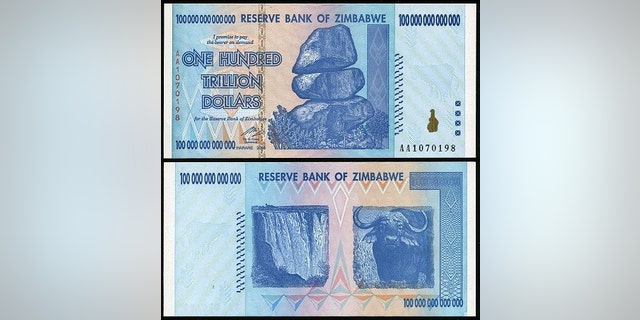 Americans traveling in Zimbabwe using U.S. dollars in the next few months can consider themselves quadrillionaires in that country, as it phases out its hyper-inflated currency to embrace a multi-currency system.
Zimbabwe's central bank says bank notes from its old currency, which collapsed and was discarded years ago because of runaway inflation, can be exchanged for American dollars. Starting Monday through September, stacks of Zimbabwean bills that might still be kept by Zimbabweans can be exchanged for U.S dollars, but not many of them.
Citizens with high bank balances will be able to exchange as many as $35 quadrillion local dollars for just one U.S. dollar, the BBC reported.
The bank says it needs to complete the implementation of a multi-currency system introduced during a period of hyper-inflation that stalled its economy.
Towards the end of 2008, annual inflation had reached 230 million percent-- making pensions, wages and investments worthless, and causing the shutdown of most schools and hospitals. At least eight out of 10 citizens were unemployed.
Prices in retail shops changed several times a day, and there were severe shortages of basic goods. Some Zimbabweans even transported their money to local markets in wheelbarrows. Back then, even street hawkers refused to accept a $100 trillion dollar note.
Foreign currencies—including the U.S. dollar and the South African rand-- have been used for most transactions since 2009.
As of next week, Zimbabweans will be able to exchange bank accounts of up to 175 quadrillion (175,000,000,000,000,000) Zimbabwean dollars for five U.S. dollars, Governor John Mangudya told Bloomberg News in an e-mailed statement from the capital, Harare. They have until the end of September to exchange their local dollars.
This marks the official end of the currency.
"The decommissioning of the Zimbabwean dollar has therefore been pending and long outstanding since 2009," Mangudya said Thursday. "We cannot have two legal currency systems. We need therefore to safeguard the integrity of the multiple-currency system or dollarization in Zimbabwe."
The southern African nation's economy plunged into crisis in 2000, after the government started a campaign of violent seizures of white-owned commercial farms to distribute to black subsistence growers, threatening exports of tobacco and other crops. Inflation surged to 500 billion percent and the economy shrank during a nearly 10-year recession that ended in 2009.
A coalition government implemented new policies that helped expand the economy, and the recognition of foreign currencies as legal tender helped control inflation. Consumer prices fell an annual 2.7 percent in April, according to the statistics agency, Bloomberg reported.
That unity government ended when President Robert Mugabe was reelected in 2013 and the economy still faces huge challenges.
One problem has been a shortage of coins that kept prices high, as retailers often rounded them up and shoppers were given change in sweets or pens instead of currency.
Over the last six months, the central bank has introduced about $10 Million worth of "bond coins" into circulation, but they have not been popular with consumers who fear that it's the first step in the re-introduction of the volatile Zimbabwe dollar.
The highest currency denomination was a $100 trillion Zimbabwean dollar note. But 100 trillion Zimbabwean dollars will fetch only 40 U.S. cents in the next few months. That's a fraction of what collectors have been paying for the notes with numerous zeroes for years. While local dollars are rarely used anymore, high-denomination notes are often sold as souvenirs.
The Associated Press contributed to this report.