One Marine rescued, 6 missing after planes collide off Japan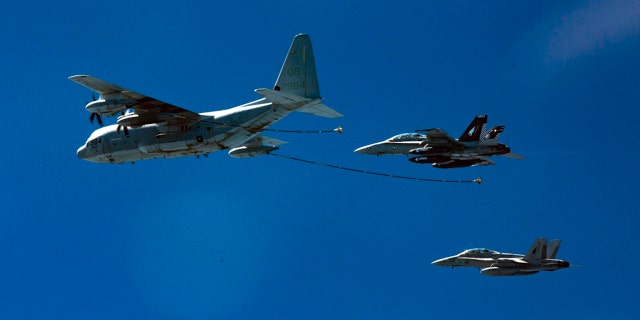 One U.S. Marine was rescued, but six others were missing late Wednesday after two Marine Corps aircraft collided while refueling in mid-air during a regularly scheduled training exercise off the coast of Japan.
The aircraft -- a KC-130 and a F/A-18 Hornet -- had launched from Marine Corps Air Station Iwakuni, near Hiroshima. The accident occurred at around 2 a.m. Thursday, local time (12 p.m. Wednesday ET).
Japan's Defense Ministry said the two aircraft crashed into the sea south of the Muroto Cape on Shikoku island in southwestern Japan, about 200 miles off the coast.
A U.S. official told Fox News that seven Marines were on board the two aircraft. Two aviators were on the F/A-18 Hornet, while five Marines were on the KC-130.
Japanese officials said the rescued Marine was in stable condition. The Marine Corps said the rescued crew was taken to a hospital at its base in Iwakuni and was being treated, but did not provide any other details.
The Marines said in a separate statement that the incident was under investigation.
The crash is the latest in recent series of accidents involving the U.S. military deployed to and near Japan.
Last month, a U.S. Navy F/A-18 Hornet from the aircraft carrier USS Ronald Reagan crashed into the sea southwest of Japan's southern island of Okinawa, though its two pilots were rescued safely. In mid-October, a MH-60 Seahawk also belonging to the Ronald Reagan crashed off the Philippine Sea shortly after takeoff, causing non-fatal injuries to a dozen sailors.
More than 50,000 U.S. troops are based in Japan under the bilateral security pact.
The Associated Press contributed to this report.