Olympics in mind, South Korea deports 17 foreigners 'who could pose a terrorist menace'
South Korea says it has deported 17 foreigners as an antiterror measure ahead of the 2018 Winter Olympics in Pyeongchang in January.
"We have deported 17 foreigners who could potentially pose a terrorist menace to the Olympics," an immigration official told The Korea Times. "It was possible with the close cooperation and intelligence-sharing of spy agencies in 50 countries."
The foreigners were from five different countries, including places in Southeast and Central Asia, the South Korean newspaper reported, citing the Korea Immigration Service. Those deported also allegedly belonged to international groups designated as terrorists as part of the country's antiterror law, or were "on a wanted list shared by a network of intelligence agencies."
The official added that South Korea "must be very thorough in counterterrorism" ahead of the Olympics, "as athletes and people all over the world are coming."
The location of the Winter Games is just 50 miles south of the heavily militarized border between North and South Korea, and there are concerns that North Korea's Kim Jong Un will use the global event to stir up trouble.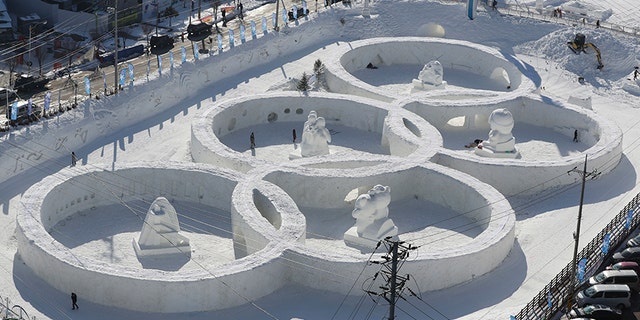 The Olympics, taking place over the course of roughly two weeks in February, will be highly protected, with some 5,000 armed forces personnel guarding venues, The Korea Times reported.
The South Korean government has been holding security drills, staging a range of offensive actions in an effort to anticipate North Korean action during the competition.
Fox News' Greg Palkot contributed to this report.