Olympic torch visits forerunner of modern games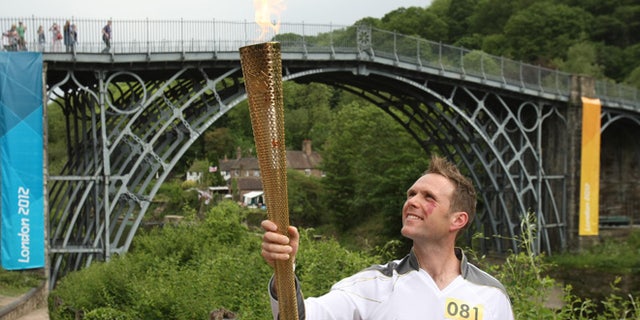 LONDON – With 58 days to go before the start of the London Games, the Olympic torch travelled Wednesday through a small town in central England credited as the birthplace of sport's biggest extravaganza.
The flame was paraded through Much Wenlock, which began celebrating the Wenlock Olympian Games in 1850 and was visited by International Olympic Committee founder Baron Pierre de Coubertin 40 years later.
De Coubertin cited the town's games as an inspiration for the first modern Olympics, staged in Athens in 1896. One of the London Olympics mascots is named Wenlock in recognition of the town's historical significance.
"The Olympics might never have taken place if Baron De Coubertin had not come to Wenlock and seen the games that Dr. William Penny Brooks had created himself," said torchbearer Alison Williamson, who will become only the third British athlete to compete in six Olympics when she takes part in the archery competition in London.
On the 12th day of the relay, the flame also went across the world's first iron bridge -- in a town called Ironbridge.
Local historian Ronald Miles, an 83-year-old who survived a cancer operation in January, was also among the torchbearers in Much Wenlock.
"I have had some wonderful experiences, I saw her Majesty the Queen married in 1947, I have been all over the world to 60 countries, but nothing touches this today," Miles said.
The 70-day torch relay across the U.K. is covering 8,000 miles (12,875 kilometers) and will end with the lighting of the Olympic cauldron at the opening ceremony on July 27