Old Wounds Make It Hard for Some Chinese to Find Sympathy for Japanese Victims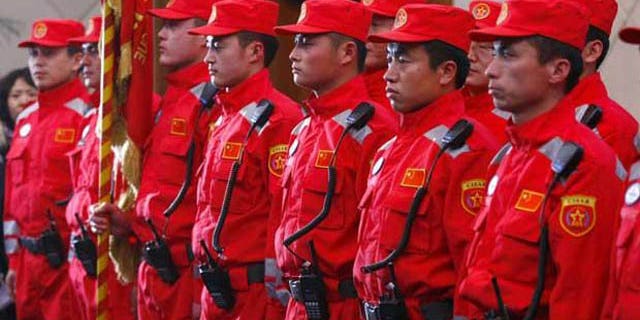 BEIJING – They are historical enemies and modern-day economic rivals, but China has pledged to deliver massive amounts of aid to the stricken citizens of Japan following that nation's massive earthquake, tsunami and ongoing nuclear crisis.
China's government has promised 30 million yuan, or $4.56 million, in relief supplies including quilts, tents and emergency lights, in addition to the four tons of equipment that accompanied a 15-person rescue team. China's military is also offering assistance, including medical teams and a navy hospital ship.
"China is also a country prone to earthquake disasters and we fully empathize with how they feel now," the country's premier, Wen Jiabao, said this week.
"We will provide more as Japan needs it and we want to continue to help as necessary."
But it is a delicate balance for China, trying to play the role of global power and good neighbor despite its difficult history with Japan.
Japanese soldiers invaded Manchuria in 1931 and occupied parts of China until 1945, and no one here has forgotten wartime atrocities including 1937 Rape of Nanjing, in which up to 300,000 Chinese were killed.
"We should consider this from the humanitarian angle and we should donate, but considering what Japan has done to us, especially to our female compatriots, it's hard for us to show them sympathy," said Xu Li, 35, a saleswoman on lunch break in a downtown Beijing McDonald's yesterday.
Anti-Japanese sentiment is still common, as evidenced online and on the occasional bumper sticker, and in sanctioned public protests that frequently follow disputes between the two nations.
This week, while Chinese portals including Sina.com.cn have created a green ribbon campaign for support, a rival campaign is growing calling on Chinese web users not to forget the country's own Yunnan province, which is still cleaning up from its own 5.8 magnitude quake on March 10.
At least 25 people there died and 250 more were injured.
"Web netizens should put more attention to Yingjiang, the death toll is already high, don't ignore Chinese lives and property. Please wake up from Japan's earthquake disasters and take a look at your own country and people, look around you, we're going through earthquakes too, let more Chinese people pay more attention to Yunnan," read one post, forwarded by more than 55,000 people via the Sina portal.
"My father said it is karma, repaying the debt owed to us for the invasion. I was not born in that era and I have not suffered those agonies, but I will neither mourn nor gloat," read another from the popular Chinese message board qq.com, identifying the writer as from Laibin in the south-central Guanxi province.
However, for the most part China has set aside old war wounds and is drawing on its own experiences in the 2008 Sichuan quake instead.
State-controlled newspapers are trumpeting Chinese efforts to help the stricken citizens of Japan, including full-color photos of the Chinese rescuers.
"This is not at all difficult for China to do because I think the Chinese people and Chinese government consider this a humanitarian disaster. It has little to do with the political relationship between the two countries," said Chu Shulong, a political scientist from Beijing's Tsinghua University.
Also at stake for China is the massive demand for raw materials and energy that will be required to help rebuild Japan, a task which is expected will take years and billions of dollars.
Initial estimates suggest the damage will exceed that of the major 1995 earthquake in Kobe, which cost an estimated $159 billion in reconstruction and recovery.
Chinese stock markets were up this week, driven largely by coal and steel companies who anticipate big business across the water once the cleanup begins in earnest. Though financial experts don't anticipate China has much in the way to offer Japan in the way of wealth or in technology, its natural resources and cheap and plentiful labor may well play a significant role.
Meantime, on the streets of Beijing and in other cities, small fundraisers have sprung up on university campuses and individual city governments are making direct donations to their sister cities in Japan.
"Psychologically, we don't all feel so good about it, but when people are in distress they should help each other," said Liu Meng, 38, a freelance architect.
"If the situation gets worse, we should offer more help to help them get through this."