Oklahoma Man Dies While In Police Custody, Family Says It Was Brutality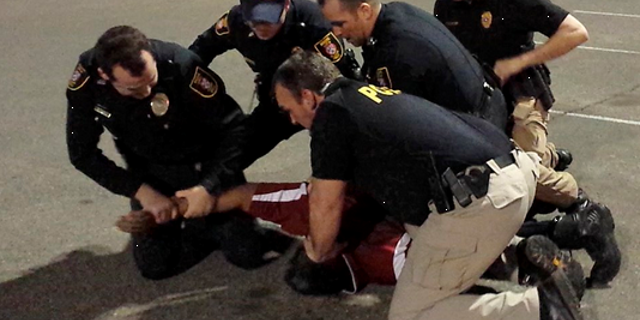 The Moore (Oklahoma) Police Department on Thursday released the narrative of what police say happened the night Luis Rodriguez was arrested and later died in custody.
Luis Rodriguez died in the early morning hours of Feb. 15th after he was detained at the Warren Theatre in Moore. His wife, Nair, recorded the incident on her cell phone.
Five officers were called to the parking lot on a domestic disturbance. Three are Moore Police officers, the other two are security officers at Warren Theatre. According to the police report, one of the security officers was an off-duty Moore officer, the other two were off-duty Oklahoma Department of Wildlife Game Wardens.
Luis, known in his family and his church as a peacemaker, went after his wife to calm her down when he was confronted by police and theater security.
The police report states a witness said she saw a fight outside the movie theater between family members. When officers arrived, they said Nair was walking away from Luis and their daughter and refused to stop on their commands.
The officer said she eventually did stop and told him them that she hit her daughter in the face because she "had lied to her and called her dirty names and was being deceitful". As the officer spoke with Nair, that's when he said he observed officers starting to struggle with Luis.
Officers had asked Luis what was happening and Luis responded by saying it was "none of his business" and they were dealing with a "family matter". He eventually told police that his wife had hit their daughter and officers asked him for his identification.
According to the report, Luis refused, crossed his arms, and walked away. One of the officers said he believed Luis was taking an aggressive stance with another officer and tried to get around the officer several times. The officer said he believed Luis was trying to "go after Nair".
Officers asked Luis for identification again and that's when officers say he took a fighting stance with them. The officers wrote they were trying to place him in investigative detention until they could find his identification and determine is involvement in the domestic assault they were investigating.
The officers said they went to place him in an arm bar when he threw one of the officers off him and the others stepped in. Police say at that point, Luis and the officer fell to the ground and continued to ignore the officers requests. They say they used several techniques to get him under control and handcuffed.
After he was handcuffed, police sat him up and called a supervisor and medical personnel. While the paramedics were tending to Luis, he stopped breathing.
He was taken to a local hospital where doctors say he was stabilized. He was taken for a CT scan and a short time later, he stopped breathing again and died a short time later, according to the report.
Moore Police spoke to reporters last week. They said Luis was combative so they pepper-sprayed him and held him down. But they say no other weapons, like bats or batons, were used.
"We do stand behind our officers and their actions," said police spokesperson Jeremy Lewis.
They've handed the case to the Oklahoma State Bureau of Investigation because there are both officers from their department and a state agency involved.
In a press conference Tuesday, Rodriguez family attorney Michael Brooks-Jimenez released the video.
"Luis, known in his family and his church as a peacemaker, went after his wife to calm her down when he was confronted by police and theatre security," Jimenez said.
Family members claim police brutality played a role, but their attorney says he's holding judgment until hearing from the medical examiner.
Investigators with the OSBI say they are still investigating what happened. The medical examiner has not yet released Luis's autopsy results.
For more Oklahoma news, check out www.okcfox.com
Follow us on twitter.com/foxnewslatino
Like us at facebook.com/foxnewslatino