Officials: Sabotage at Play in Indian Train Crash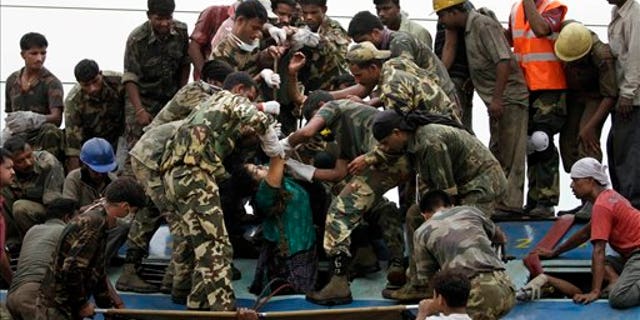 SARDIHA, India -- Indian police began searching for Maoists rebels on Saturday believed responsible for sabotaging a crowded passenger train, as rescuers continued pulling bodies from the wreckage.
The passenger train in eastern India derailed and smashed into an oncoming goods train on Friday, killing 98 people and injuring at least 200. The death toll is expected to rise.
"We have identified the people who are behind the incident. These are Maoists and we are trying to trace them and bring them to justice," said Manoj Verma, a senior police official.
The crash site in West Bengal state is in a Maoist stronghold and police said some 150 rebels had been camping in the crash area for the past few days.
Prime Minister Manmohan Singh has described the Maoist insurgency as India's biggest internal security challenge.
Maoists, who say they are fighting for the rights of the poor and landless and want to overthrow the government, have stepped up attacks in recent months. More than 1,000 attacks were recorded in 2009 and 600 people were killed.
The Maoists number some 20,000 combatants, with 6,000-8,000 hardcore fighters, and regularly attack railway lines and factories, aiming to cripple economic activity.
With the rebels controlling vast swathes of mineral-rich areas, the government has often struggled to transport coal to power and steel firms. The rebels extort about $300 million from companies in India every year to fund their movement
The latest attack will put further pressure on the Congress party-led government to bring in the military to tackle the four-decade-long insurgency across eastern and central India.
Rescuers continued to prise open mangled train coaches on Saturday to remove more bodies from the wreckage.
"The toll has gone up to 98. We are pulling out more bodies," N.S. Nigam, a senior local government official told Reuters.
"At the moment, there is another compartment, which we need to cut open. There are more bodies inside and the work will go on till evening," he said.
The cause of the derailment remains unclear. Some railway officials initially said a bomb had derailed the passenger train, but police said they were also looking at other possible sabotage methods, such as the removal of track "fish plates".
Railway officials will begin their investigation into the accident on Monday after all the bodies are recovered.
The Maoists started their campaign in 1967 armed with bows and arrows and stolen rifles, but the government says they now buy high-powered weapons from Chinese smugglers and are in touch with other militant groups in India.
Reuters contributed to this report