Obama pushes China on contentious currency issue in meeting with Chinese premier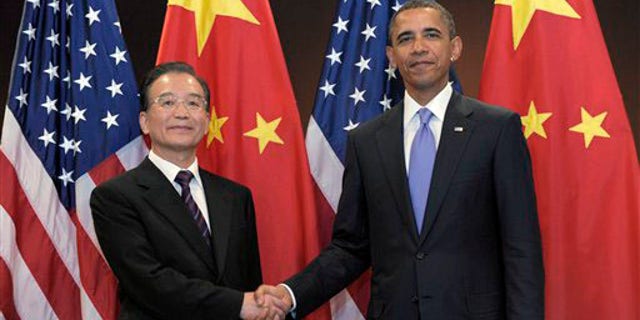 UNITED NATIONS – UNITED NATIONS (AP) — President Barack Obama pushed Chinese Premier Wen Jiabao on Thursday to make changes to a currency policy the United States says hurts struggling American workers.
White House aides said the leaders held intensive private talks on a dispute that threatens U.S. efforts to win Chinese help in settling nuclear standoffs with North Korea and Iran and on other global initiatives.
U.S. exporters say Beijing's undervalued currency gives Chinese companies an unfair trade advantage, and Obama warned Wen that he wanted to see an increase in the yuan's value and was prepared "to protect U.S. economic interests," said a White House aide who was present during the closed-door meeting.
The currency spat was the dominant issue in the leaders' talks on the sidelines of the U.N. General Assembly meeting in New York — a signal that, despite intertwined economies and a growing dependence on each other in global diplomatic, environmental and security matters, trade differences remain a major thorn in U.S.-China ties.
Trade friction has become even more pronounced ahead of U.S. congressional elections in November and at a time of high American unemployment. Some U.S. lawmakers are pushing for a bill that would punish China if it doesn't do more to let the yuan rise.
China appears unwilling to budge on currency.
In a speech ahead of the Obama meeting, Wen warned against letting the issue be politicized, saying many Chinese companies would go bankrupt and workers would suffer if the Chinese currency rose drastically.
Jeffrey Bader, an Asia expert on Obama's National Security Council, told reporters that, during the leaders' talks, Wen reiterated China's intent to gradually allow the yuan to rise. Obama has publicly said that's not happening fast enough.
Obama "made clear that we're expecting to see more action, more significant movement" on the yuan, Bader said. Obama said "he's going to protect U.S. economic interests and that we look for the Chinese to take actions."
During a brief photo session before the talks, Obama praised Chinese leaders for working with the United States on economic, nuclear nonproliferation and Asian security issues. China is a veto-wielding member of the U.N. Security Council and recently passed Japan as the world's second-biggest economy.
But, Obama said, "obviously, we continue to have more work to do on the economic front."
"It is going to be very important for us to have frank discussions," Obama said. He added that U.S.-China cooperation is "a critical ingredient in a whole range of security issues around the world."
Wen, speaking through an interpreter, said: "Our common interests far outweigh our differences."
In a speech Wednesday, however, Wen saw no link between the yuan's value and China's trade advantage over the United States. The politically sensitive U.S. trade deficit with China jumped to $26.2 billion in June, the largest one-month gap since October 2008.
Currency is not the only point of tension between the countries.
China is lashing out at the United States for what Beijing says is interference in its territorial disputes in the South China Sea. China is also angry over U.S. arms sales to Beijing rival Taiwan and Obama's meeting earlier this year with the Dalai Lama, the exiled Tibetan Buddhist leader China calls a separatist.
Bader said Obama "emphasized the importance of peaceful resolution of disputes (and) the U.S. interest in freedom of navigation in the South China Sea."
Also Thursday, the United States urged China and Japan, the top U.S. ally in Asia, to aggressively and quickly resolve a territorial dispute that has deepened animosity between the longtime rivals.
State Department spokesman P.J. Crowley told reporters that Secretary of State Hillary Clinton told new Japanese Foreign Minister Seiji Maehara that good ties between China and Japan are crucial to Asia's prosperity.
Japan has arrested the Chinese captain of a fishing boat that collided two weeks ago with Japanese coast guard vessels near islands in the East China Sea claimed by both nations.
"Neither side wants to see the situation escalate to the point where it has long-term regional impact," Crowley said.
___
Associated Press writers Mark S. Smith and Ben Feller contributed to this report.