Obama Mixes Fundraising With Immigration Message, On West Coast Swing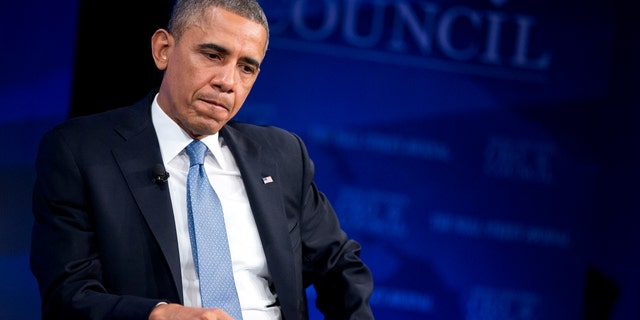 Seattle (AP) – President Barack Obama is blending an aggressive fundraising schedule for Democrats with a pitch for overhauling the nation's immigration laws, mixing a powerful issue within his party with the inevitable financial draw of an incumbent president.
Obama's first event Monday is a stop at a San Francisco recreation center that serves a primarily Chinese community. He will renew his call for the House to pass new immigration measures.
After an evening of fundraisers in Seattle Sunday, Obama was scheduled to appear at four fundraisers Monday in San Francisco and Los Angeles for the Democratic National Committee and for House and Senate Democrats. One event will be held at the home of Earvin "Magic" Johnson, the former NBA star and now co-owner of the Dodgers of Major League Baseball.
Immigration is an important issue with Hispanics, a primarily Democratic voting bloc. The Democratic-controlled Senate passed a comprehensive bipartisan bill earlier this year that included border security and a path to citizenship for millions of immigrants illegally in the United States. But House Republicans leaders want to deal with the issue piecemeal and don't plan to hold any votes during what remains of this year.
Obama will speak at the Betty Ann Ong Chinese Recreation Center. According to administration data, 25 percent of the foreign-born population in the United States in 2011 came from Asian countries, and Asian immigrants comprise 11 percent of the 11 million immigrants in the U.S. illegally.
In Seattle Sunday, Obama sounded a nostalgic personal note and offered a rare self-assessment while criticizing congressional Republicans as an "impediment" to governing.
Obama told donors at one event that the sight of Mt. Rainier illuminated by a setting sun was particularly special because it reminded him of his mother, who attended high school in the Seattle area. "I feel the spirit of my mom," he said.
He also attempted to contrast himself with Republicans who control the House of Representatives, saying they are "more focused on positioning themselves for the next election." Joined by House Democratic leader Nancy Pelosi, Obama insisted he was not looking to defeat the other party, but then said the country needs Pelosi to be speaker again — a result only achieved by defeating House Republicans.
"I'm not a particularly ideological person," he said, adding that he still is passionate about giving people a fair shake, about the environment, and about working for peace and national security. "But I'm pretty pragmatic about how we get there."
Follow us on twitter.com/foxnewslatino
Like us at facebook.com/foxnewslatino