Obama in Peru assuaging leaders of Trump presidency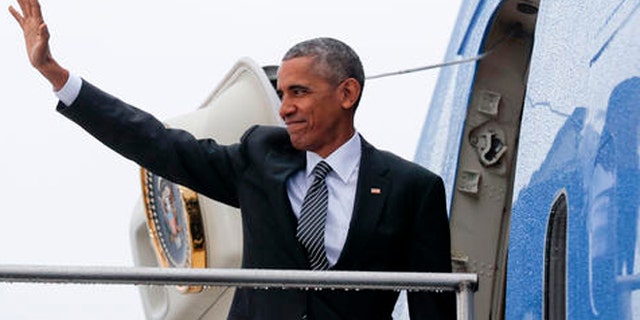 NEWYou can now listen to Fox News articles!
LIMA, Peru (AP) – President Barack Obama will close a three-nation, post-U.S. election tour the same way he opened it: by reassuring leaders from around the world that U.S. democracy isn't broken and that everything will be fine when Republican Donald Trump succeeds him next year.
Obama is spending the weekend in Lima, Peru, to make a final appearance at an annual Asian-Pacific summit.
But global concerns about Trump's pending ascension to the world's most powerful office after a surprise win in last week's U.S. presidential election will be a key topic of discussion during Obama's meetings. The Trump issue overshadowed the president's interactions with world leaders earlier this week in Athens, Greece, and Berlin.
Trump opened what was an unlikely presidential bid by blasting Mexicans as criminals and rapists, and vowing to build a wall along the U.S.-Mexico border to keep them and other Latinos from entering the U.S. illegally. During the campaign, the New York businessman rattled U.S. allies by questioning the value of multinational organizations like NATO, and he opposed international trade deals, including a pending Pacific trade pact that Obama negotiated with 11 other countries, calling such agreements harmful to U.S. workers.
Since Obama opened the final foreign trip of his presidency with a stop in Greece on Tuesday, he has tried to reassure his counterparts that the U.S. will uphold its partnerships and obligations despite the divisive rhetoric of a campaign that ended with the election of a real estate mogul and reality TV star with no prior political or government experience.
Obama was likely to offer additional reassurance during a one-on-one meeting Saturday with Pedro Pablo Kuczynski, who took office as Peru's president earlier this year.
On Friday, before Obama's late-night arrival in Peru's oceanfront capital, Kuczynski warned that the U.S. presidential election is a sign of growing hostility toward free trade that threatens the global economy. He told delegates gathering for the Asia-Pacific Economic Cooperation Forum that global trade had stopped growing in the past two years, and would only worsen if nations wall off their economies — as Trump has pledged to do with an agenda that calls for putting America's interests above all else.
"It is fundamental that world trade grow again and that protectionism be defeated," said Kuczynski, who did not mention Trump by name.
Obama has argued for some time that globalization is here to stay, and that governments must address people's fears about what the changing economics mean for them.
Obama was also meeting Saturday with leaders of 11 APEC countries that joined the U.S. to negotiate the sweeping Trans-Pacific Partnership trade deal, which Trump opposes. The agreement appears all but dead in the U.S., given that top Republican and Democratic congressional leaders have said lawmakers will not vote on it before they adjourn for the year.
Obama supports international trade deals as a way both to boost U.S. exports and create jobs domestically, and the TPP deal was a key component of his strategy to "pivot" U.S. policy toward Asia to take advantage of the region's fast-growing marketplaces and, at the same time, to create a counterweight to China's growing influence in the region.
Trump leveled harsh criticism at China during the election, threatening the Asian powerhouse with hefty import tariffs over alleged trade and currency violations. Obama was also holding talks Saturday with Chinese President Xi Jinping, one of many world leaders who spoke with President-elect Trump this week.
Trump's team said he told Xi during their telephone conversation that he believes they will have one of the "strongest relationships for both countries moving forward." Xi told Trump that cooperation between the world's two biggest economies was necessary.
The White House said Obama wants to review progress the two presidents have made on a range of issues.
Obama has carved out time in between meetings for one of the staples of his overseas travels: a town hall-style forum with the region's future leaders.
He also was attending a dinner welcoming leaders from APEC's 21-member countries.
Like us on Facebook
Follow us on Twitter & Instagram