Obama hoping Americans will see Guantanamo prison an undue expense, doesn't insure security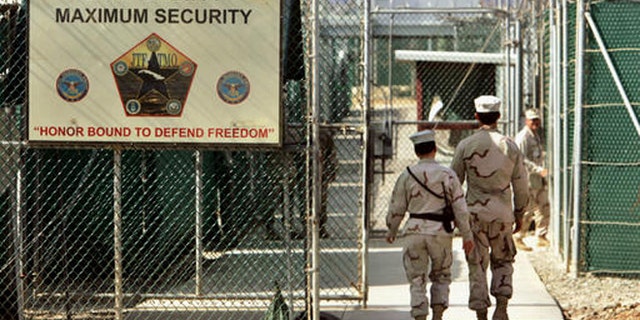 NEWYou can now listen to Fox News articles!
VIENTIANE, Laos (AP) – President Barack Obama said Thursday he's not ready to concede that the U.S. military prison at Guantanamo Bay, Cuba, will remain open when he leaves office.
Obama was asked about the future of Guantanamo as he conducted a news conference wrapping up his final visit as president to Asia. The detention center was opened in January 2002 to hold foreign fighters suspected of links to the Taliban or the al-Qaida terrorist organization.
Obama said his administration was still working diligently to shrink the prisoner population. He said that, as the population continues to decrease, he hopes the American people will ask about the expense of maintaining a facility that he believes isn't necessary for their safety and security.
Obama set a goal early in his presidency of closing the prison, but he's been blocked by Congress. Republican leaders argue that they won't jeopardize national security over a campaign promise. About 60 prisoners are being held there, down from hundreds.
"I continue to believe that Guantanamo is a recruitment tool for terrorist organizations, that it clouds and sours some of the counter-terrorism cooperation we need to engage in," Obama said.
In recent weeks, 15 prisoners at Guantanamo were sent to the United Arab Emirates in the single largest release of detainees during the Obama administration. During the Bush administration, 532 prisoners were released from Guantanamo, often in large groups to Afghanistan and Saudi Arabia.
Like us on Facebook
Follow us on Twitter & Instagram