NYU denies Chen forced out over China tie-up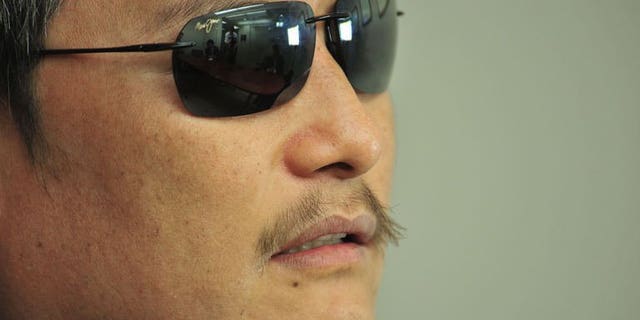 SHANGHAI (AFP) – A New York University official in China shrugged off allegations Saturday that Chinese political pressure over its Shanghai campus had led the US school to end the studies of dissident Chen Guangcheng.
The university, a private institution in Manhattan, said earlier this month that it would soon part ways with the blind activist, whose dramatic escape from house arrest to the US embassy in Beijing last year provoked a diplomatic crisis.
Chen, who arrived in the United States last May, claimed that Beijing applied "unrelenting" pressure on the university to end his programme.
NYU has adamantly denied the charge and a professor instrumental in bringing him to the law school, Jerome Cohen, has also denied political pressure.
The New York Post earlier this month alleged that the school was letting Chen go due to sensitivities as it was working to expand in Shanghai to tap into the lucrative Chinese market.
"No one here from the government or the (ruling Communist Party) has ever spoken to me about him and his tenure at New York University in New York," NYU Shanghai Vice Chancellor Jeffrey Lehman said.
"The communications were always between him and NYU in New York," he said in response to a question at a conference in Shanghai.
"NYU Shanghai was never involved so there was no role in the end of his fellowship," he said, adding that the university never planned to enroll Chen beyond a year.
NYU in 2011 unveiled plans to set up a campus in Shanghai -- the third degree-granting campus in its global network.
The programme -- a joint venture with NYU's local partner, East China Normal University -- is set to welcome its first batch of students in the fall of 2013.
China has granted NYU Shanghai independent legal status to operate, and Lehman said the campus would preserve academic freedom despite operating in China.
"NYU operates as a liberal education institution that requires academic freedom in order to be effective," Lehman said.
"From the beginning, there was complete commitment on the part of our Shanghai and our Chinese colleagues to respect the value of academic freedom within our university," he said.
Chen, a self-taught lawyer, faces little danger of being sent back to China as leading lawmakers from both major US political parties have strongly supported him.