Nurse who killed herself after royal prank reportedly attempted suicide twice before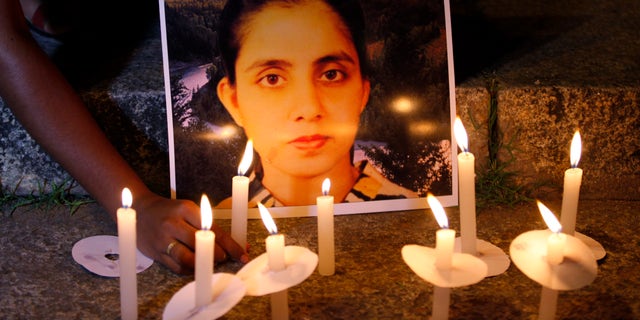 The nurse who committed suicide after becoming the victim of an international radio prank had a history of mental illness and had attempted suicide twice in the last year, according to an Indian newspaper.
Jacintha Saldanha was fooled by a live prank call on Dec. 5 from two Australian radio hosts pretending to be the British queen and Prince Charles. Saldanha, 46, let the call through and transferred it to another nurse, who provided private medical information about Kate Middleton's condition.
The call was broadcast all around the world, and two days later, Saldanha was found hanging by a scarf in the nursing staff quarters of London's King Edward VII Hospital.
India's Deccan Herald reports that last December, Saldanha joined her husband and two children—ages 14 and 17—at a family wedding in Mangalore, in southern India. The family celebrated Christmas together but just days later, Saldanha was admitted to a hospital.
The U.K.'s Daily Mail reports she overdosed on pills in her first suicide attempt on Dec. 30, 2011, and nine days later, tried to jump from a building.
Signs of depression and suicidal tendencies apparently continued through September, but it is not clear whether she could be regularly supervised because she lived at the nursing staff quarters alone, while her husband and children lived in Bristol, England.
Saldanha's family has previously denied that the nurse had a history of depression and would not comment on the reports of her previous suicide attempts.
Relatives told the Daily Mail that Saldanha was so distraught about her role in the prank, she did not tell her husband or children about it before she died, despite speaking to them on the phone several times.
When asked about the previous suicide attempts, Saldanha's younger brother, Naveen Saldanha, told the Mail, "We didn't know about the first incident, but we knew about the second."
He refused to comment further but said he believed she didn't tell her family about the involvement in the hoax because she felt ashamed.
Click for more from the Daily Mail.
Click for more from DeccanHerald.com.