Numerous wrongful arrests hamper Philippines anti-terror work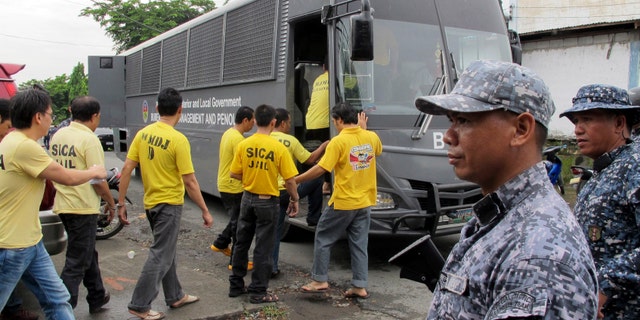 MANILA, Philippines – More than a decade ago, the military declared they had killed an Abu Sayyaf kidnapping suspect named Abdulmukim Idris. Yet a man authorities accuse of being Idris continues to languish in a maximum-security jail where the Philippines holds some of its most notorious terror suspects.
In the country's dogged pursuit of terror suspects, it also has nabbed two "Black Tungkangs," two "Abdasil Dimas," two "Hussien Kasims." Those are just a few of the signs that Philippine law enforcers have made a slew of mistaken arrests in going after Abu Sayyaf and other Islamic militant groups long active in this Southeast Asian nation's south.
Complaints of false arrests prompted low-key but unprecedented reinvestigations of some of the country's high-profile terrorism cases by state prosecutors. They have led to the release of more than two dozen people who were either mistaken for Abu Sayyaf fighters or brought to trial without evidence, according to official findings.
In their latest review, issued in August, state prosecutors said such faulty arrests of villagers, some of whom could not be identified even by a single witness, are "abhorred in civilized societies like ours."
An Associated Press investigation that included interviews with prosecutors, key witnesses and a freed detainee shows that dozens more people remain behind bars despite a lack of evidence against them. For instance, of the two detainees accused of being the Abu Sayyaf militant who used the nom de guerre Black Tungkang, one remains in custody, even though a former hostage has sworn that neither was the right man.
"I really wanted to retaliate if I have the chance — against the right people," the former hostage, Amily Mantec, told The AP in an interview. She was among six Jehovah's Witnesses abducted by Abu Sayyaf gunmen in 2002. Two of the captives, including her husband, were beheaded.
The real culprits "committed horrible crimes, but they're free because other people are suffering under their names," said Mantec, who now lives under a government witness-protection program.
The case involving Mantec had the most releases of mistakenly arrested detainees among the three high-profile kidnappings involving the Abu Sayyaf that prosecutors have re-examined in the last two years. Twenty-two suspects, arrested between 2004 to 2012, were freed in 2013 after Mantec and another former hostage failed to identify them and for lack of evidence. Just three others were returned to trial.
Two detainees were released after prosecutors re-examined the 2000 kidnappings of 52 students, teachers and a Roman Catholic priest on the southern island province of Basilan, an attack that left three abductees dead. Prosecutors discovered that not a single witness stood against the two suspects as they sat in jail for more than a decade.
In a third case — 21 Western tourists and Asian workers kidnapped from a Malaysian diving resort and released in the Philippines' Sulu province — the review lead to the release of one suspect.
Across the three cases, 120 indictments were sustained.
Senior state prosecutor Peter Ong said he and other prosecutors also want the remaining "Black Tungkang" detainee released, but the court has refused because the arresting officer insists he's the right suspect. Ong said the suspect says he was coerced into giving a false confession. The arresting officer could not be reached for comment.
Ong said he suspects some law enforcers may have forced civilian informants to point to the wrong people to pocket anti-terror bounties. He said he has asked government officials to introduce more safeguards to prevent government anti-terror bounties from being corrupted.
Mantec told the AP that an arresting officer once pressured her to falsely identify a man as an Abu Sayyaf militant who had a bounty on his head, but she resisted.
More than 140 million pesos ($3.2 million) in rewards have been handed to informants for the "neutralization" of 115 Abu Sayyaf militants from 2001 to 2013, according to the military.
As recently as 2012, the government was offering a bounty for the capture of Abu Sayyaf militant Pedong Palam, even though a man said to be that suspect had been in jail since the early 2000s. Ong said that detainee was finally released last year after prosecutors found no evidence against him during a review of his kidnapping case.
Hundreds of Abu Sayyaf militants have been killed or captured since the country's south became a battleground in the U.S.-led war on terror following the Sept. 11, 2001, attacks. While Manila's constitution restricts America's involvement to noncombat support, the countries' cooperation in the decline of the Abu Sayyaf, dreaded for its bombings, ransom kidnappings and beheadings, has been regarded as a counterterrorism success story.
But mistakes are a concern in the Philippines' slow and overburdened law enforcement and criminal justice system, which has a backlog of thousands of cases and is tainted by corruption allegations.
In far-flung Muslim regions in the south, those frailties are compounded by backward conditions like a lack of birth certificates and other identification papers of poor villagers, hampering the accurate identification of suspects. With spotty intelligence, government forces have often relied on civilian informants, some with questionable backgrounds, who have at times pointed to wrong suspects, Commission on Human Rights chief Loretta Ann Rosales said.
Two men were collared for being a militant named Abdasil Dima two years ago. Another pair were arrested under the militant name Hussien Kasim 13 years ago, according to prosecutors.
The four are currently detained in a heavily secured jail in metropolitan Manila with Idris Ukani. He was arrested 13 years ago after being tagged as the kidnapping suspect Abdulmukim Idris, even though the military has publicly declared that troops shot dead Abdulmukim Idris in 2003 after he escaped from the main police camp.
Idris, the two Abdasil Dimas and two Hussien Kasims are suspects in the Basilan kidnappings.
Human rights lawyer Pura Ferrer-Calleja, who represents Ukani, said she has pointed out the anomalous arrest and sought the release of her client years ago, but the court rejected her petition. She said some witnesses previously pointed to her client as among the kidnappers, but said that testimony should be scrutinized at the trial.
A former Abu Sayyaf commander who has turned state witness, Abu Gandhie, has testified that most of the 94 detainees accused of kidnapping the students, teachers and priest on Basilan island are innocent.
Ong said Gandhie, who has acknowledged involvement in the Basilan kidnappings, has identified only 12 of the 94 detainees as participants. Gandhie has also said far more were arrested than had even taken part in the kidnappings, a number he said was no higher than 60.
Ong said he initially thought as many as 80 Basilan detainees could be freed, but he added that he was unable to petition the court in nearly all cases because the court had rejected earlier petitions to free them. At this point, he said, those defendants must go through the trial process.
Under a 2007 anti-terror law, law-enforcement officials can be fined 500,000 pesos ($11,200) for each day they wrongfully detain a terror suspect. The law has been used at least twice, but Rosales, the Commission on Human Rights official, said officers can avoid it by charging terrorism suspects with common crimes.
Ong said no law-enforcement official has been convicted of falsely arresting an Abu Sayyaf suspect. But the Philippine military and police say personnel who carry out illegal arrests will be punished appropriately.
"If there is some evidence, we'll look into it. We really correct our mistakes," national police spokesman Chief Superintendent Wilben Mayor said.
Still, Manila's review of major terrorism cases drew praise from a U.N. counterterrorism official, Jean-Paul Laborde, during a recent visit.
"If you arrest innocent people," Laborde warned at a news conference, "you will catalyze more and more people into going in the wrong direction."
Manny Ismael, a 38-year-old laborer, was among those freed in 2013 after prosecutors declared there was no proof he was involved in the kidnappings of Mantec and the other Jehovah's Witnesses.
A father of nine, Ismael wept when he stepped out of jail after 10 years. He said he had been falsely accused by a feuding relative who died while Ismael was in custody.
Ismael remains poor, but can now bask in the sun, sea and his newfound freedom in his coastal Sulu hometown. His thoughts often turn to the dozens of suspects still locked up on terrorism charges — men he believes are innocent.
"There's food there, but when you wake up in the morning and sleep at night, the first and last thing you will see are the iron bars," he said. "The constant problem is how to keep your sanity."