Number of Syria refugees tops 2 million, UN says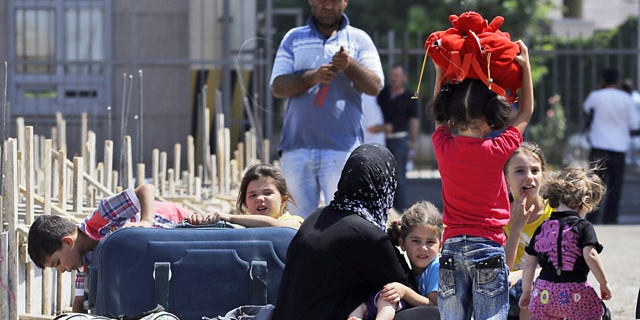 The number of refugees fleeing Syria's bloody civil war has surged past the 2 million mark, with almost 5,000 people crossing into that country's neighbors every day, according to a new report from the United Nations Refugee Agency issued Tuesday.
The United Nations High Commissioner for Refugees (UNHCR), Antonio Guterres, called the Syrian conflict "the great tragedy of this century -- a disgraceful humanitarian calamity with suffering and displacement unparalleled in recent history" in a statement obtained by Reuters. "The only solace is the humanity shown by the neighboring countries in welcoming and saving the lives of so many refugees."
Guterres added that 1.8 million Syrians had fled the country within the last 12 months. The report estimated that another 4.25 million Syrians have been displaced within the country's borders.
Actress Angelina Jolie, UNHCR's special envoy, warned in a statement that "if the situation continues to deteriorate at this rate, the number of refugees will only grow, and some neighbouring [sic] countries could be brought to the point of collapse.''
Reuters reported that government officials from the four main hosts of Syrian refugees -- Iraq, Jordan, Lebanon, and Turkey -- were due to meet with U.N. officials Wednesday in Geneva to determine ways to raise more international aid. A $2.9 billion refugee aid effort is already under way.
As of the end of August, the agency counted 716,000 refugees in Lebanon, 515,000 in Jordan, 460,000 in Turkey, 168,000 in Iraq and 110,000 in Egypt. It said over half of them were children, according to the Associated Press.
The Syrian conflict is estimated to have killed more than 100,000 people since its beginning in March 2011.
The Associated Press and Reuters contributed to this report