Norwegian preschool blasted after kids watch reindeer slaughter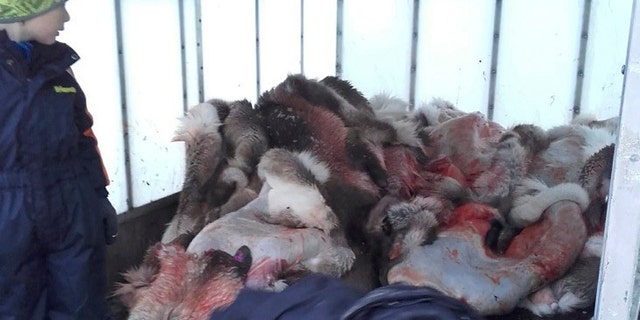 NEWYou can now listen to Fox News articles!
A preschool in Arctic Norway is facing online criticism for taking 5-year-old children on an outing to view the slaughter and skinning of reindeer at a nearby farm.
COWS AS BIG AS ELEPHANTS MAY SOON ROAM EUROPE
The criticism erupted on Facebook after the school posted photos of eight children looking at reindeers, a culled animal hanging above a blood pool, a child dragging bloodied skins in the snow and snowsuit-clad children tossing carcass bits into a container.
Dag Olav Stoelan, head of the Granstubben Barnehage preschool, says Tuesday's daytrip was designed to teach the children about the indigenous Sami who live in northern Norway and are often involved in reindeer herding.
REAL-LIFE SPIDER-MAN COMING SOON: ARTIFICIAL SPIDER WEB CAN BE GROWN IN LABS
Hundreds of thousands of reindeer roam freely across the region and provide work for those in the country's sparsely populated northern wilderness.
"There are many reindeer outside," Stoelan said Friday, speaking by telephone from the preschool near the city of Steinkje, 320 miles north of Oslo, the capital. "This is not the first time we have done it."
"It is important to show where the meat comes from," he told The Associated Press, adding "we will do it again."
The preschool has had previous outings to see pigs being slaughtered at other nearby farms.
Stoelan said once parents had agreed to let their children participate, preschool employees talked to the children about the farm before and after the outing. Preschool teacher Therese Johnsen told the local daily Troender-Avisa that none of the children had reacted negatively.
Negative reactions, however, did come on the school's Facebook wall, where some people wrote that "the kindergarten is making sure we get more psychopaths among us" and "people who are killing animals are not far away to killing human beings."
Public dissections of animals are common in Scandinavia.
In October 2015, a Danish zoo faced criticism and online protests for publicly dissecting a lion in front of children. The Copenhagen Zoo, meanwhile, made international headlines a year earlier when it killed a giraffe for inbreeding reasons, then dissected it and fed it to lions in front of visitors, including children.