North Korea's Kim Jong Un: From punchline to world menace
North Korean dictator Kim Jong Un, once a source of global ridicule, is no longer being treated as a joke now that the Hermit Kingdom's destructive power can match his increasing belligerance.
The 33-year-old, third-generation strongman has long been a punchline for everything from his "dangerous obsession with cheese" to his prodigious girth in a nation of starving subjects.
The satirical paper The Onion named him "Sexiest Man Alive" in 2012, and Reuters reported - quite seriously - that his full, self-designated title is "Dear Respected Comrade Kim Jong Un, Chairman of the Workers' Party of Korea, Chairman of the State Affairs Commission of the Democratic People's Republic of Korea and Supreme Commander of the Korean People's Army."
But with North Korea closer than ever to being capable of launching a nuclear attack on the U.S., mockery of Kim has given way to real concern around the world.
NORTH KOREA JUMPS ON SOUTH KOREAN PRESIDENT'S OUSTER, CALLING HER A 'CRIMINAL'
To kick off 2017, Kim used his annual address on state-run television to boast that his regime was in the final stages of preparations to test-launch an intercontinental ballistic rocket.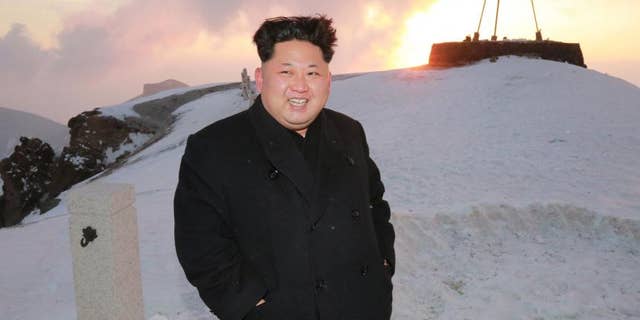 "Research and development of the cutting-edge tech weapons are actively progressing and strengthening our defense capabilities, including last stage preparation of tests for Intercontinental Ballistic rocket launch have been continuously succeeding," Kim said.
Coupled with recent tests, nuclear capability, an increasingly hostile tone and vexing unpredictability, Kim's North Korea has become the world's diplomatic dilemma.
"We can expect an [intercontinental ballistic missile] test this year with full capability within the next few years," former CIA official Bruce Klingner told Fox News earlier this month.
IS IT TIME FOR OUR DEALMAKER IN CHIEF TO TALK WITH NORTH KOREA?
Last week, current White House Press Secretary Sean Spicer noted President Trump recently spoke with Japanese Prime Minister Shinzo Abe and South Korea's Acting President Hwang Kyo-ahn to reassure our allies of "the United States' ironclad commitment to stand with Japan and South Korea in the face of the serious threat posed by North Korea."
Spicer added that Trump "also emphasized that the administration is taking steps to further enhance our ability to deter and defend against North Korea's ballistic missiles using a full range of the United States' military capabilities."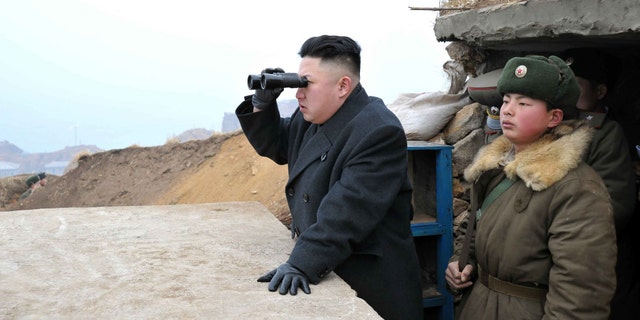 Experts believe that North Korea already has the ability to strike the U.S.-friendly nations of Japan and South Korea.
"North Korea almost certainly already has the ability to target South Korea and Japan, and U.S. forces based in both countries, with nuclear weapons carried on the No Dong medium-range ballistic missiles," former CIA Deputy Division Chief for Korea Bruce Klingner told Fox News. "After missile test launches last year, Pyongyang declared that they were practicing nuclear air-burst attacks on South Korea."
U.S. Secretary of State Rex Tillerson will visit South Korea Friday, as part of his first official trip to the region that also includes Japan and China. It is expected he will discuss North Korean containment with leaders in Seoul.
Arthur Herman, senior fellow at the Hudson Institute, believes that it's possible to stop a North Korean nuclear attack.
"The answer to the North Korean threat isn't bombing missile sites or putting boots on the ground, but putting technology in the sky that both the U.S. and Japan could deploy in a very short time—technology that can all but eliminate Pyongyang's menace," he wrote in a recent Wall Street Journal Op-Ed.
"Technology exists now for stopping a North Korean missile launch much earlier, in its boost phase," Herman wrote. "It's called boost-phase intercept, or BPI, and the U.S. and Japan have the means to deploy it."
The youngest son of infamous former North Korean leader Kim Jong Il, Kim Jong Un assumed power when his father died in 2011. His bizarre and brutal tenure as supreme leader has been unpredictable to say the least. Said to be obsessed with basketball, he hosted former NBA star Dennis Rodman in 2014.
According to South Korea's Foreign Ministry, Kim has executed at least 70 officials since taking control. He had his uncle, Jang Song Thaek, executed. Last month, Kim's older half-brother, Kim Jong-nam, was killed in Malaysia.
A favored method of execution is to blow the doomed away with anti-aircraft guns.
While his father seemed to issue threats and rattle sabres as a negotiating ploy, always pulling back after gaining concessions from his targets, Kim seems to have inherited his father's brutality but not his savvy.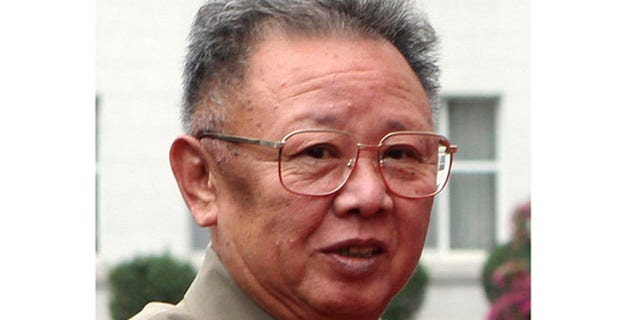 Following Pyongyang's nuclear test in September of last year, South Korean President Park Geun-hye questioned the North Korean dictator's mental soundness.
"Kim Jong Un does not listen to any voice, and this leads us to view Kim Jong Un's mental state as uncontrollable," said South Korea's first female president, who did not outlast her Pyongyang counterpart. She was ousted last week in a corruption scandal.
Article headlines paint a picture that would be comical, if the situation weren't so grave.
News reports from around the world still poke fun at the rotund rogue dictator, but take on an increasingly ominous tone these days.
- The Australian: "North Korea's Kim Jong-un keeps going ballistic"
- The Sun: "Kim Jong-un laughs maniacally as he watches missile test 'training for attack on US bases in Japan' – as Americans deploy THAAD missile defence system to South Korea"
- Fox News Insider: "Amb. Haley on North Korean Leader: We're Not Dealing With a 'Rational Person'"
"Only regime change in Pyongyang will definitely end the North Korean missile and nuclear threat," Herman wrote. "Meanwhile, unmanned BPI could allow us all to rest easier—and deprive Kim Jong Un of his chief tool for international blackmail."