North Korean ship symbolizes hope for better relations with Japan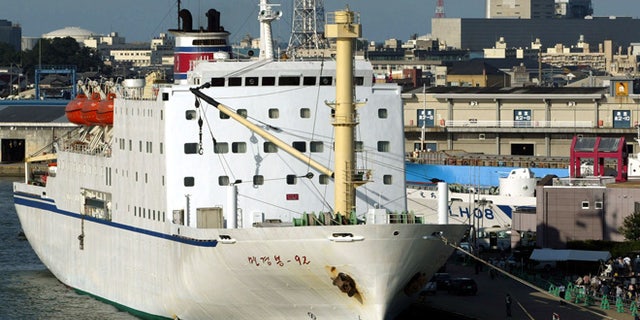 WONSAN, North Korea – The barbecues are all fired up along the jetty and the beach is dotted with sunbathers. Divers plunge into the water in search of clams, which are dipped in hot sauce and eaten raw right there on the spot. Wonsan, a sleepy port on North Korea's east coast, is gearing up for a busy summer and, if talks with Japan go as North Korea hopes, maybe a return to livelier days.
Opening the door just a crack to better relations, Pyongyang has set up a committee to reinvestigate the fates of a dozen Japanese citizens who Tokyo suspects were abducted by North Korean agents in the 1970s and 80s. In return, Prime Minister Shinzo Abe is considering easing a broad array of unilateral sanctions that have shut down virtually all trade and most contact between the countries.
It's unclear how far North Korea is willing to go to satisfy Japan's demands to resolve the abductions issue, which even more than the North's nuclear program has galvanized Japanese public opinion against Pyongyang. Popular sentiment in North Korea against Japan — its former colonial ruler — is even more negative.
Envoys for the two sides met Tuesday in Beijing to discuss the new committee, and Abe is expected to announce his decision on the sanctions soon.
In Wonsan, a giant ferry that was once an important link between the countries mysteriously reappeared, dominating the view of the harbor, before talks began.
The Mangyongbong-92, a sleek white ship longer than a football field, was long the symbol of a once-massive flow of goods, people and cash between the countries. Its recent return suggests that Pyongyang wants to resume port calls, and start pulling in Japanese cash, as soon as possible, but there has been no official explanation. Like the proverbial 500-pound gorilla in the room, Wonsan residents are reluctant to even mention it.
Until the Mangyongbong-92 was banned in 2006, Wonsan was a bustling port of entry for Japanese capital.
The ferry was a crucial means for the ethnic Koreans in Japan to visit the North, often laden with gifts, supplies and cash for their relatives or friends, bringing a wide variety of products not normally available in the socialist state. In its peak years, the Mangyongbong-92 was believed to have transported hundreds of millions of dollars worth of goods and cash to the North.
Tokyo says it is willing to reward Pyongyang if it comes clean on the abductions issue — including allowing North Korean ships to make port calls in some cases. But, fearing they will be criticized for breaking ranks with allies in Washington and Seoul, officials stress they will still abide by U.N.-backed sanctions on the North's long-range missile and nuclear weapons tests. Pyongyang says it has no intention of giving up its nuclear program.
Japanese sanctions have taken a toll. According to Japan's Foreign Ministry, two-way trade between Tokyo and Pyongyang amounted to more than $30 billion in 2003. It was almost completely eliminated by increasingly broad sanctions beginning in 2006. From 2010, there has been virtually no trade between the countries, which have no diplomatic relations.
Since the ban, the Mangyongbong-92 has been seen in use only when North Korea attempted to start a new tourism service bringing foreign visitors from Rason, on its border with China, down the coast to the scenic Mount Kumgang area.
Even a partial thaw could provide Pyongyang with a small but potentially meaningful boost for its recent efforts at promoting international tourism and, perhaps farther down the road, increased trade.
Wonsan has been singled out by North Korean authorities as a key area for its nationwide tourism push. North Korea's giant Masik Pass ski resort, a signature construction project of leader Kim Jong Un that opened late last year, is nearby.
Although the overwhelming majority of tourists who visit North Korea are Chinese, Pyongyang hopes to entice visitors from all over the region to fuel its drive for much-needed foreign currency.
Selling tours to places like Wonsan to the average Japanese won't be easy. Japanese officials have given mixed signals about whether the Mangyongbong-92 would be allowed back if sanctions are eased.
Most Korea-bound Japanese vacationers are much more likely to choose the amenities and shopping of the South, though there are about 550,000 ethnic Koreans in Japan, and many of them are at least to some degree sympathetic with the North.
Pro-Pyongyang Koreans in Japan say the ferry operations should be resumed for humanitarian purposes so families can visit relatives in the North and students in ethnic Korean schools can make class excursions. Supporters also say it will make other cultural exchanges more feasible.