North Korea says it tested submarine ballistic missile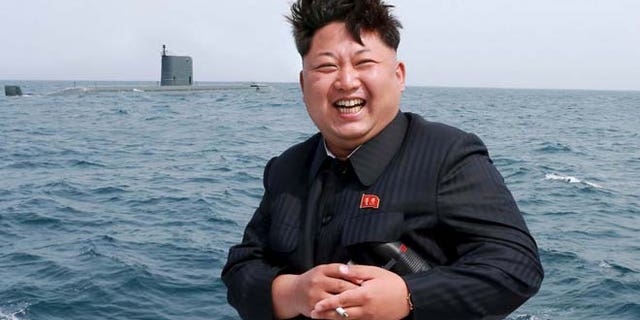 North Korea boasted Saturday it had test-fired a secret new ballistic missile from a submarine and declared the firing a success.
North Korean leader Kim Jong Un personally directed the test launching, the Wall Street Journal said, citing the official Korean Central News Agency.
The Journal said Kim called the missile a "world-level strategic weapon" and an "eye-opening success."
Hours after the announcement, South Korean officials said the Kim government fired three anti-ship cruise missiles into the sea off its east coast, escalating tensions between the two countries.
A State Department spokesman told Fox News Saturday the U.S. was aware of the reported firing of the submarine ballistic missile.
"Launches using ballistic missile technology are a clear violation of multiple UN Security Council resolutions," the spokesman said.
The official added, "We call on North Korea to refrain from actions that further raise tensions in the region and focus instead on taking concrete steps toward fulfilling its international commitments and obligations."
North Korea now has a weapon capable of "striking and wiping out in any waters the hostile forces infringing upon the sovereignty and dignity of (North Korea)," Kim said, the Journal reported.
For the second straight day, North Korea said it would fire without warning at South Korean naval vessels that it claims have been violating its territorial waters off the west coast of the Korean Peninsula. South Korea's presidential Blue House held an emergency national security council meeting to review the threat and discuss possible countermeasures.
"By raising tensions, North Korea is trying to ensure that it will be able to drive whatever future talks with the U.S. and South Korea," said Yang Moo-jin, a professor from the Seoul-based University of North Korean Studies.
South Korean officials previously had said that North Korea was developing technologies for launching ballistic missiles from underwater, although past tests were believed to have been conducted on platforms built on land or at sea and not from submarines.
Security experts say that North Korea acquiring the ability to launch missiles from submarines would be an alarming development because missiles fired from submerged vessels are harder to detect before launch than land-based ones. North Korea already has a considerable arsenal of land-based ballistic missiles and is also believed to be advancing in efforts to miniaturize nuclear warheads to mount on such missiles, according to South Korean officials.
The test might have taken place near the eastern coastal city of Sinpo, where satellite imagery in recent months, analyzed by a U.S. research institute, appeared to have shown North Korea building missile-testing facilities and equipping a submarine with launch capabilities. In a separate report Saturday, KCNA said Kim visited a fisheries facility in Sinpo to offer "field guidance."
The Associated Press contributed to this report.