North Atlantic haven: Icelandic people tell government to accept more refugees from Syria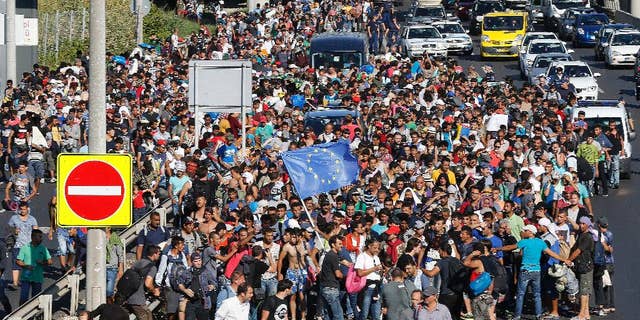 REYKJAVIK, Iceland – "Future spouses, best friends, our next soul mate." That's how an Icelandic author is describing refugees seeking European shores, in a Facebook campaign that has helped to spark a surge of support for welcoming migrants in her remote North Atlantic island.
As much of Europe hesitates, Iceland — which has just in recent years emerged from the effects of a devastating economic meltdown — seems to be warming to the idea of taking in Syrians fleeing their war-torn homeland. It's a historic shift for an island that has long been reluctant to take in foreigners.
A grassroots movement in support of migrants making the perilous journey to Europe is already having an impact on government policy, with officials reaching out to the United Nations refugee agency to say Iceland is willing to accept more refugees.
Even small towns are involved, with the northern Iceland town of Akureyri expressing an interest in adding Syrian refugees to its population of 17,000 hardy residents.
"I think most Icelanders are very interested in helping refugees have a better life," said Akureyri town council chairman Gudmundur Baldvin Gudmundsson. "We have a society that is very good for them and we have experience in taking refugees."
The government said in July that it would take in 50 Syrian refugees over the next two years, but that meager figure — consistent with a policy that has seen just 549 refugees accepted since 1956 — is expected to rise in the face of public pressure. Officials already are making plans to accept more and some citizens are calling for up to 5,000 to be admitted.
The movement started before a photograph of a drowned 3-year-old Syrian boy who washed up on a Turkish beach sparked worldwide concern about the fate of the migrants trying to reach Europe. The generous spirit is remarkable because Iceland suffered a disastrous 2008 financial meltdown that saw the collapse of its major banks and a steep fall in living standards.
One driver of the grassroots movement is the "Syria Calling" Facebook page launched last week by Icelandic author and professor Bryndis Bjorgvinsdottir. Some 15,000 people have "liked" the page in an apparent endorsement of her call for Minister of Social Affairs Eyglo Hardardottir to let more refugees live legally in Iceland.
"Refugees are human resources, experience and skills," Bjorgvinsdottir wrote. "Refugees are our future spouses, best friends, our next soul mate, the drummer in our children's band, our next colleague, Miss Iceland 2022, the carpenter who finally fixes our bathroom, the chef in the cafeteria, the fireman, the hacker and the television host. People who we'll never be able to say to: 'Your life is worth less than mine.'"
Hardardottir said Thursday her ministry has informed the UN that Iceland is prepared to accept more than the 50 refugees it had committed and asked residents to contact the ministry if they want to volunteer or provide material assistance to newcomers who may arrive with virtually no resources.
"I encourage people to get in touch with the ministry and the Red Cross to ask how they can help," said Hardardottir. "People need jobs, homes, and clothes, for example, and to learn how the banking system works."
Iceland's residents are taking action as well. More than 900 people have signed up as Red Cross volunteers in the last few days to assist Syrian refugees when they arrive in Iceland.
"What has happened in the last few days is something very interesting_a bottom up movement," said Red Cross Iceland spokesman Bjorn Teitsson. "The people of Iceland seem to have woken up from a bad dream and are embracing the refugee crisis that the world has to face. We have been very pleased about this positive energy and the will to help."