Nobel Peace Prize to Malala Yousafzai, Kailash Satyarthi celebrated for highlighting children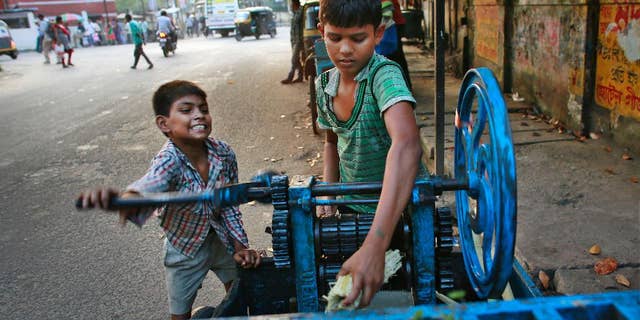 STOCKHOLM – Some reaction to the 2014 Nobel Peace Prize being given to Kailash Satyarthi of India and Malala Yousafzai of Pakistan:
___
"The award of the Peace Prize to these two ardent defenders of education sends out a resounding message to the world on the importance of education for building peaceful and sustainable societies." — UNESCO Director-General Irina Bokova.
___
"The biggest threat to the Taliban is a girl with a book. To me, Malala Yousafzai is a heroine. I think it is wise by the Nobel Committee to put special focus on children and give the award to both a young activist and someone who has dedicated his life to children's rights." — Margot Wallstrom, Sweden's foreign minister and former special representative of the U.N. Secretary-General on Sexual Violence in Conflict.
___
"This is a great prize and big news for us. This minor but courageous girl has created a positive identity of Pakistan. We as Pakistanis and especially as residents of the Swat valley are thankful to Malala." — Ahmed Shah, a friend of Malala's family in the Swat valley.
___
"Malala is a brave and gentle advocate of peace who through the simple act of going to school became a global teacher. She said one pen can change the world - and proved how one young woman can lead the way."
"Thanks in large measure to Mr. Satyarthi's heroic work, the world has moved from denial about abusive child labour to acknowledgement, awareness and action." — U.N. Secretary General Ban Ki-moon.
___
"Malala sets a powerful example that has inspired people all over the world, and which has been deservedly recognized by the Nobel Committee. The courage she has shown in the face of such adversity is a true inspiration."
"Kailash Satyarthi has dedicated his life to helping the millions of children in India who are forced into slavery and work in torrid conditions. His award is an acknowledgement of the tireless, decades-long campaigning by civil society activists on child trafficking and child labor in India." — Salil Shetty, Secretary General of Amnesty International.
___
"We cannot forget the millions of other children around the world who are denied their right to education. This is a victory for all of them." — European Commission President Jose Manuel Barroso and European Council President Herman Van Rompuy.
___
"The prize should be seen as recognition of the contributions of India's vibrant civil society in addressing complex social problems such as child labor and the important role played by them in collaboration with the government in the nation's efforts to eliminate all forms of child labor." — Indian President Pranab Mukherjee.
___
"Education for girls is important and child labor a horrible problem. Worthy causes, but the committee once again makes a false pretense of loyalty to Nobel and confuses and conceals the plan for world peace that Nobel intended to support." — Norwegian lawyer Fredrik S. Heffermehl, who is campaigning for the jury to stay closer to the peace theme of Nobel's will.